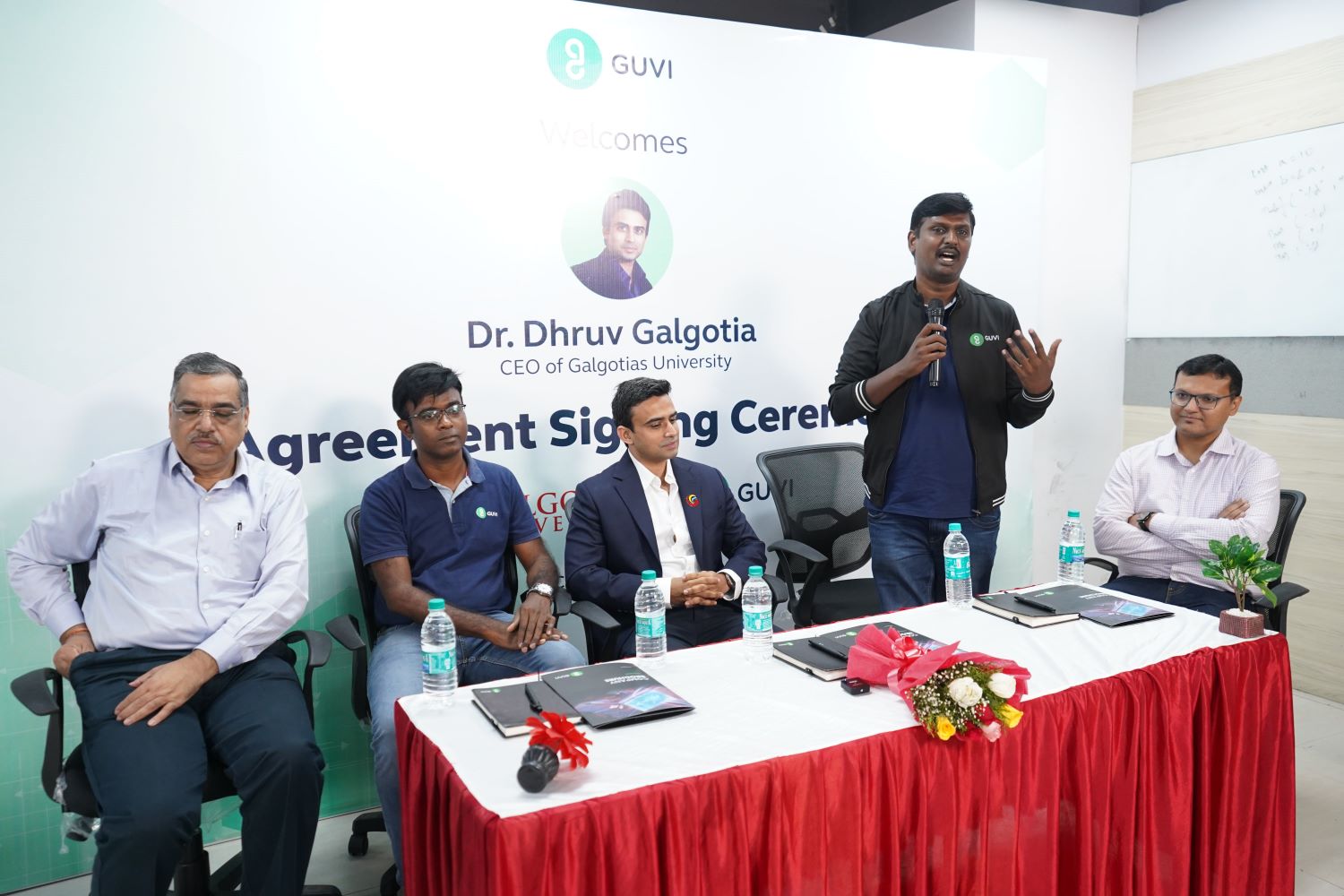 GUVI partners with Galgotias University to unlock corporate careers
GUVI, IIT Madras has partnered with Galgotias University of Greater Noida to bring C2C program to more than 4000 students of Galgotias University.
Galgotias University is one of the highly graded universities of the UGC, Ministry of Education, Government of India.
Strategic partnership between GUVI which is IIM Ahmedabad incubated company aims to upskill college students with more than 1,000 Industry-recognized skill certifications and bridge the gap between academia and industry by providing a comprehensive set of practice tools, courses, and mentorship to nurture their technical skills.
C2C program
GUVI's C2C Program is designed to empower college students with career-boosting tech skills. It features an extensive range of offerings, such as over 100 tech webinars, 100 workshops, and 300+ self-paced tech courses, delivered in multiple regional languages, including Hindi, Tamil, Kannada, Marathi, Gujarati, Malayalam, Telugu, Odia, Bengali and English besides foreign languages like Spanish, Arabic.
This diverse approach caters to various learning preferences, ensuring comfortable upskilling for all, say sources from GUVI. C2C is College2Corporate.
Explore
The C2C Program not only allows students to explore a wide array of career paths in both tech and non-tech domains but also helps them identify their strengths, understand industry trends, and master high-demand technical skills, say sources from GUVI.
This empowers students to make informed decisions about their future careers.
Orientation
An orientation event was conducted for more than 4,000 students at the Galgotias University today (2nd November 2023).
The event featured a motivational speech from Ms Anitha N, COO of GUVI Geek Network Pvt Ltd and an inspiring interaction with the students by Mr Achyut Chandra, Senior Manager and Global lead open innovation, O/o CTO from HCL Tech.
Also read – IIM Lucknow offers full fledged PG program in Sustainable Management
Further, students participated in on-the-spot quiz competitions related to their interested career domains, say sources from GUVI.
Collaboration
Elaborating on this collaboration, Mr Arun Prakash M., Founder and CEO, GUVI, said, "Choosing a career path upon graduation is a pivotal moment for students, and the fear of making the wrong choice can be overwhelming.
The College2Corporate(C2C) Program is designed to guide students through the process of career exploration, preparation, and skill development, to achieve their future career in the corporate industry, said CEO of GUVI.
CEO of Galgotias University
Looking forward to this collaboration between GUVI and Galogotias University, Dr. Dhruv Galgotia, CEO of Galgotias University said, with around 32,000 students in their university, we take pride in providing the best education through expert faculty.
Guidance
The C2C program offers the best guidance and support with GUVI's EdTech resources such as 300+ self-paced courses instructed in regional languages, coding practice platforms like CodeKata, WebKata, IDE and weekly sessions with industry experts from top IT Product companies.
Further information about the C2C Program can be obtained by writing to Reachc2c@guvi.in (or) contacting +91 93611 41663.
Further, C2C enables students to streamline their job placement preparations by covering aptitude, logical reasoning, and verbal ability alongside tech interview preparation with mock interviews through our platform https://www.placementpreparation.io/.
Students will get to explore various fields such as Full-stack Development, Data Science, Data Engineering, Automation Testing, AI, Machine learning & so on, to identify where their skills and interests align and head towards their best-suitable careers, say sources from GUVI.
Founder of GUVI
Mr. Balamurugan Palaniswamy, Co-Founder of GUVI, said their College2Corporate (C2C) program is a transformational bridge from academics to corporate success.
By partnering with Galgotias University, we are unleashing a wave of opportunities for over 4,000 students in the upcoming years, guiding them towards promising careers, he said.
'The fusion of quality education and real-world skills is a winning formula for our learners and the industries are waiting to embrace them.'
We are delighted to partner to offer our students this incredible opportunity for skill development and career readiness.
Our collaboration with GUVI & its EdTech services will propel the learners who possess the passion to give their best, & nothing can stop them from succeeding in their careers with a significant advantage in a highly competitive job market, he said.
Record
GUVI has been successful in breaking the Guinness World Record for the 'Most number of users to take a programming lesson in 24 Hours' through its widespread upskilling initiative: AI-for-India 1.0.
Also, It recently won the 'India's Most Trusted Vernacular EduTech Award' by Zee Digital & other prestigious awards.
Motivating principles
Expanding the motivating principles of Ms. Sridevi Arunprakash (Former COO and Co-Founder of GUVI), said they have trained over 2 million learners, collaborated with 600+ hiring partners.
This vernacular EdTech Company is now focused on making life-changing career transformations for 4000+ students of Galgotias University through C2C Program.