IIT Roorkee conducts 2 day national seminar on NEP 2020
IIT Roorkee stood the centre of attraction when it organized a two day national seminar on NEP 2020. The seminar was titled 'Revamping Indian Tradition and Culture through NEP 2020: Multilingual, Multicultural, Multidisciplinary Modes of Education.'
Event was organized by Department of Humanities and Social Sciences, IIT Roorkee, Roorkee, Uttarakhand. The National Seminar, sponsored by ICSSR and held at IIT Roorkee's Department of Humanities and Social Sciences, convened around 130 participants across India.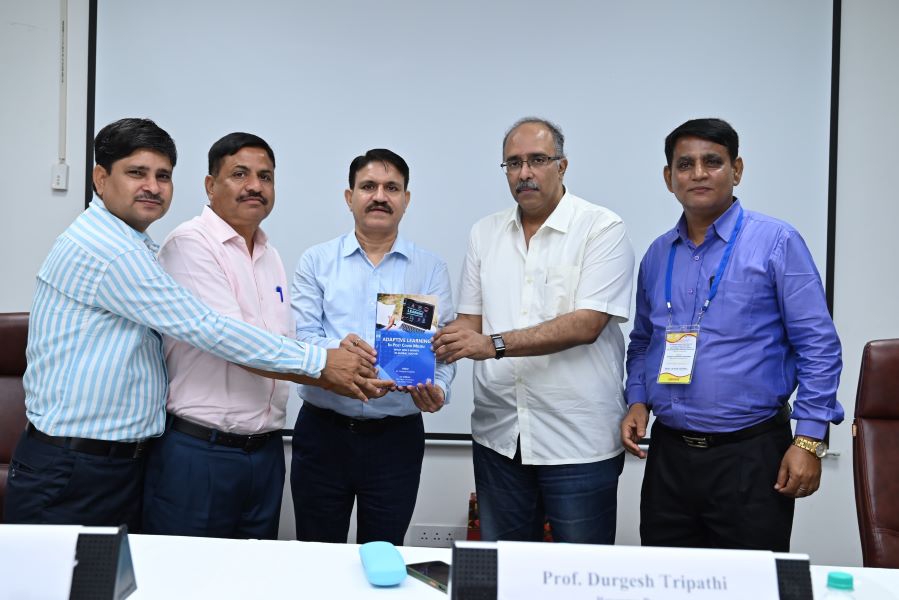 Prof. Binod Mishra, a distinguished Professor of English at IIT Roorkee, served as the convener. The seminar covered a wide array of themes, including Atmanirbhar Bharat, youth empowerment through NEP, localization of education via NEP, gender and skill development, ICT in pedagogical training, media literacy challenges, and more.
First day
The seminar's first day began with a traditional welcome ceremony, including lighting a lamp and the Kulgeet. Prof. Binod Mishra extended a warm welcome, and Prof. S. P. Singh introduced IIT Roorkee and its Humanities and Social Sciences Department.
Also read – How to crack NDA Exam in 1 month
The session also saw the release of a seminar souvenir and the launch of the second edition of the book "Communication Skills for Engineers and Scientists."
Prof. Apurbba Kumar Sharma, Dean of Academic Affairs at IIT Roorkee, inaugurated the seminar and highlighted the institution's historical journey and alignment with NEP 2020, emphasizing multilingualism.
Keynote address
Prof. P. K. Nayar, the keynote speaker, discussed humanities' vital role in understanding global impacts at the local level, emphasizing the profound connection between NEP's focus on local awareness and universal responsibility.
His insights shed light on how the arts can be a powerful tool in addressing pressing ecological challenges. In the plenary session, Prof. Kirti Kapur underscored the far-reaching impact of NEP's commitment to inclusivity, fostering a deep respect for India's rich cultural and regional diversity, say sources from IIT Roorkee.
Meanwhile, Prof. M. R. Verma's discussion of historical challenges in implementing NEPs highlighted the urgent need for well-prepared teachers and robust infrastructure, amplifying the policy's significance, say sources from IIT Roorkee.
Prof. Smita Jha's closing vote of thanks encapsulated the seminar's collective commitment to these crucial educational objectives.
Second day
On the second day of the event at IIT Roorkee, Prof. Susheel K Sharma discussed NEP 2020's language policy, focusing on the three-language formula and biases favouring English.
Prof. Rahul Banerjee explored cutting-edge education paradigms, including AI and Design Thinking. Prof. Nayar's closing remarks emphasized adaptability and sensitivity in policy-making.
The seminar covered topics like social media's role in education, open educational resources, and ICSSR's historical context and initiatives. A.K. Gupta, ICSSR representative, shared insights into ICSSR's goals and programs.
Valedictory session
The valedictory session of the event at IIT Roorkee had two talks, followed by an address by A. K. Gupta, former director of ICSSR. The first talk was delivered by Prof. Ramesh Kumar Sharma, of Vivekananda Institute of Professional Studies, University School of Mass Communication, Guru Gobind Singh Indraprastha University, Delhi.
It was followed by another talk by Prof. Durgesh Tripathi, Professor of Journalism and Mass Communication, Guru Gobind Singh Indraprastha University, Delhi.
The valedictory session featured a musical composition called "Shankhnaad" by Dr. Tanuja Nafde, who shared her creative journey. Certificates were distributed, and participants praised the seminar's organizers, suggesting the possibility of similar events in rural areas, say sources from IIT Roorkee.
Prof. Binod Mishra expressed gratitude to his team, institution, and ICSSR for their support. The seminar concluded with the national anthem, symbolizing unity and shared purpose, say sources from IIT Roorkee.
About IIT Roorkee
IITR is among the foremost of institutes of national importance in higher technological education and in engineering, basic and applied research.
Since its establishment, the Institute has played a vital role in providing the technical manpower and know-how to the country and in pursuit of research.
The Institute ranks amongst the best technological institutions in the world and has contributed to all sectors of technological development.
It has also been considered a trend-setter in the area of education and research in the field of science, technology, and engineering.
The Institute had celebrated its Sesquicentennial in October 1996 and now completed more than 175 years of its existence.
It was converted to IIT on September 21, 2001 by an Ordinance issued by the Government of India declared it as the nation's seventh Indian Institute of Technology, an "Institution of National Importance".