NITIE to IIM Mumbai: A New Era for Management Education in India
Renaming NITIE to IIM Mumbai: A Monumental Shift in Management Education
Indian management education is undergoing a significant change. The National Institute of Industrial Engineering (NITIE) will become the Indian Institute of Management, Mumbai. This change, pushed by the Indian Institutes of Management (Amendment) Bill 2023, might transform management education in India. This blog discusses the predicted changes, strategic synergies, and far-reaching implications of this transformation.
Also, read Crack MBA Entrance Exams: Expert Tips for Exam Pattern, Books, and Syllabus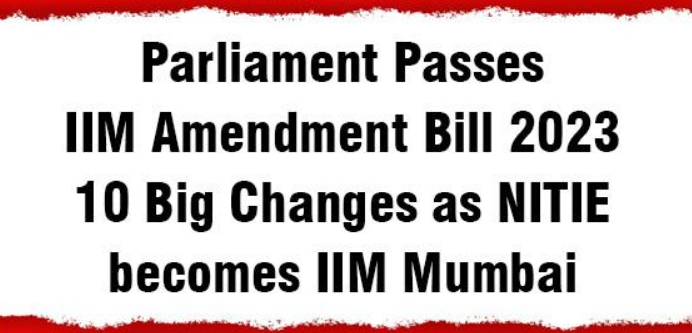 NITIE to IIM Mumbai: Anticipating 10 Significant Changes
With the awaited approval of the IIM (Amendment) Bill 2023, a new chapter unfolds for NITIE, promising profound changes for students, alumni, and stakeholders, as predicted by MBAUniverse.com.
Application Process: Shifting from self-announced application dates to aligning with CAT Registration dates.
Degree/Diploma Upgradation: Progressing from AICTE-approved PGDIM to bestowing MBA Degree akin to other IIMs.
Rankings Ascension: Envisioned ascent to the top 5 B-schools, driven by amplified applications, elevated student profile, and bolstered perception due to the IIM tag.
Enhanced Autonomy: Transitioning from AICTE-approved institution constraints to a comprehensive freedom to revise course structure, and admission norms, and introduce novel programs.
Strategic Positioning: Transitioning from a niche B-school in industrial domains to a comprehensive institution, incorporating general management programs.
Application Surge: Enabling 2.5 lakh CAT applicants to seamlessly apply for IIM Mumbai (NITIE), catalyzing a surge in applications.
Global Accreditation Quest: Aiming for National & International Accreditations such as NAAC, AACSB, and EQUIS.
Fee Restructuring: Projected fee increase post IIM status to align with other IIMs at around 17+ lakhs.
Refined Admission Criteria: Adapting admission process to reflect pre-announced minimum required CAT percentiles in line with IIM Admission Policy.
Capacity Augmentation: Progressing from the current 350 seats to a substantially expanded capacity.
Let's discuss some significant changes in detail.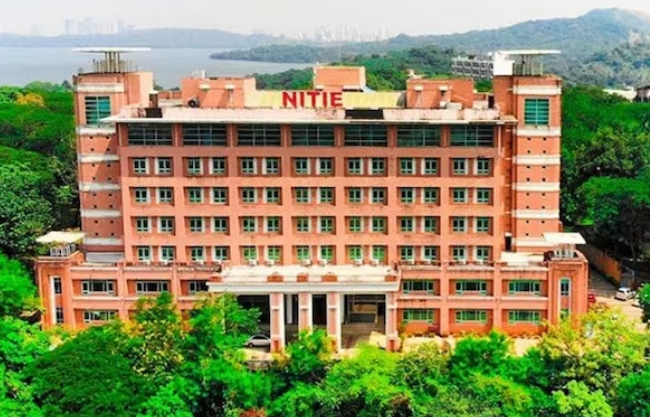 An Academic Milestone Shaped by Legislative Transformation
In a momentous stride for India's management education landscape, the National Institute of Industrial Engineering (NITIE) is set to assume a new identity as the Indian Institute of Management, Mumbai (IIM Mumbai). This monumental shift, driven by the Indian Institutes of Management (Amendment) Bill 2023, is poised to redefine the course of management education in the country.
Strategic Synergy: NITIE's Inclusion in the IIM Family
NITIE to IIM Mumbai is a testimony to its longstanding reputation for nurturing high-calibre graduates. This strategic move is anticipated to unlock a realm of benefits, offering NITIE enhanced access to the expansive resources and expertise of the IIM consortium. This collaboration is envisioned to propel NITIE's academic standards and research capabilities to new heights, fortifying its position as a beacon of excellence in management education.
NITIE ranks seventh among Management Institutes in the prestigious National Institutional Ranking Framework (NIRF) 2023, underscoring its consistent excellence.
The Indian Institutes of Management (Amendment) Bill 2023 received parliamentary approval in August, paving the way for NITIE's integration into the IIM ecosystem.
Also, read Best 5 Time Management Tips for Competitive Exams
Fueling Transformation: The Long-Term Impacts
The renaming of NITIE to IIM Mumbai is more than a symbolic change; it is a catalyst for transformation. Envisioned as a powerful driver of long-term progress, this transition is poised to create a dynamic and competitive ecosystem for management education. By aligning with IIM Mumbai's illustrious legacy, NITIE aims to empower aspiring leaders, equipping them with the skills and knowledge required to excel nationally and globally.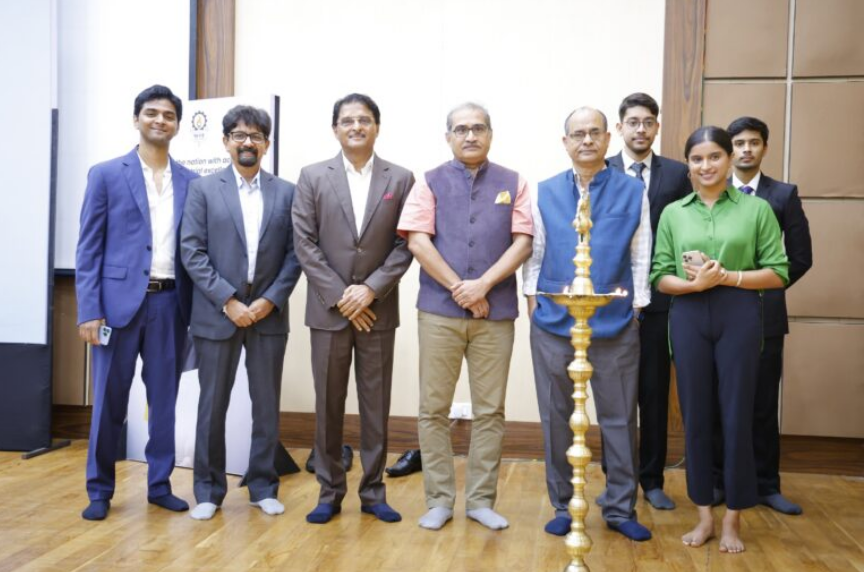 Prof. Shailesh Tiwari, the current Director of NITIE, is set to lead IIM Mumbai, ensuring a seamless transition.
The integration of NITIE into the IIM framework is praised by Mr Shashi Kiran Shetty, Chairman and Founder of Allcargo Group, highlighting the significance of this recognition.
Championing Excellence: NITIE's Legacy and Global Outreach
Established by the Government of India in 1963, NITIE has consistently secured a prominent position among the elite B-schools in the country. Notably, the institute's campus, gracefully nestled by the Vihar Lake in Mumbai's Powai, spans an expansive 63 acres of serene forested terrain. Beyond its academic endeavours, NITIE's vibrant Student Exchange Program fosters international collaboration, connecting with prestigious universities across North America, South America, Europe, and South-East Asia.
NITIE's Student Exchange Program embodies global connectivity, enriching students' perspectives and fostering cross-cultural learning.
The renaming of NITIE to IIM Mumbai exemplifies a pioneering step towards aligning Indian management education with international standards.
As the curtains rise on this transformative journey, the renaming of NITIE to IIM Mumbai stands as an emblem of progress, collaboration, and academic distinction. This evolution resonates with the enduring spirit of excellence that both NITIE and the IIM consortium embody, heralding a new era of management education in India
CONCLUSION
The transformation of NITIE into IIM Mumbai is an inspirational and revolutionary chapter in Indian management education. NITIE's inclusion into the acclaimed IIM consortium represents a visionary step towards academic excellence as the legislative revolution sets this transition in action. Strategic synergies, a distinguished past, and global ambitions position the rechristened school to empower future leaders, facilitate cross-cultural learning, and raise management education to worldwide standards. As we watch this extraordinary journey, the renamed school stands as a beacon of quality, innovation, and cooperation, ushering in a new era of academic brilliance in Indian management education.
Also, read Top 20 MBA Colleges in Bengaluru