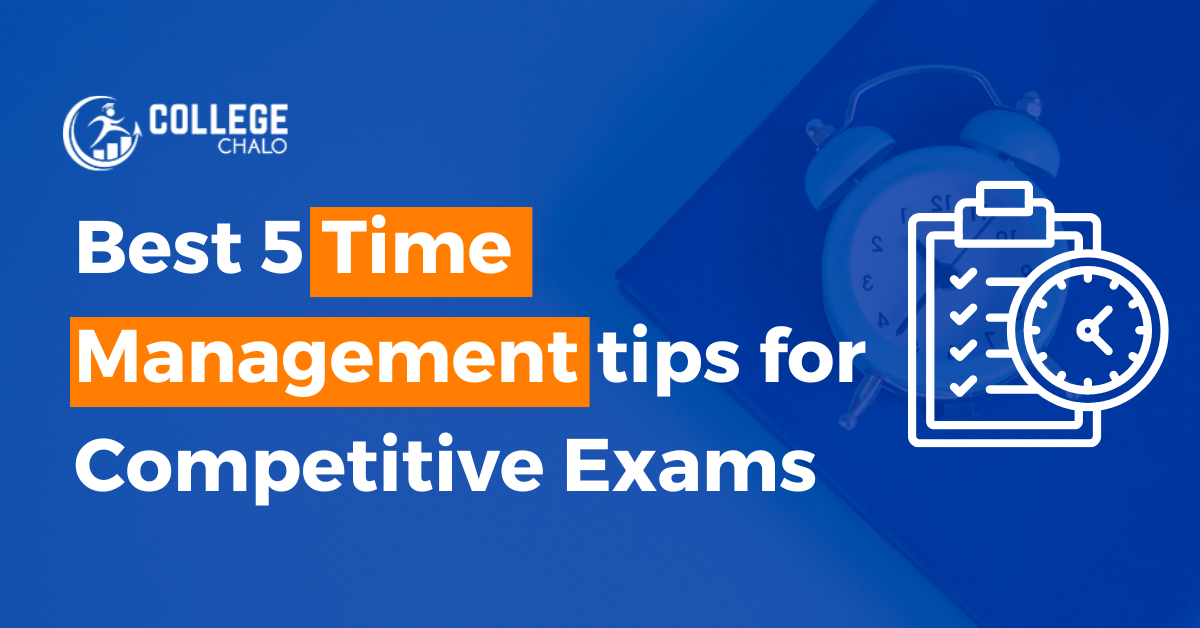 Best 5 Time Management Tips for Competitive Exams
Best 5 Time Management Tips for Competitive Exams is here to vanish your exam fear. Exam is a word that is familiar to all of us, and we all understand how it makes us feel. It's hard to explain how worried you are about passing the exam. Exam time management is often challenging because of all these competing demands.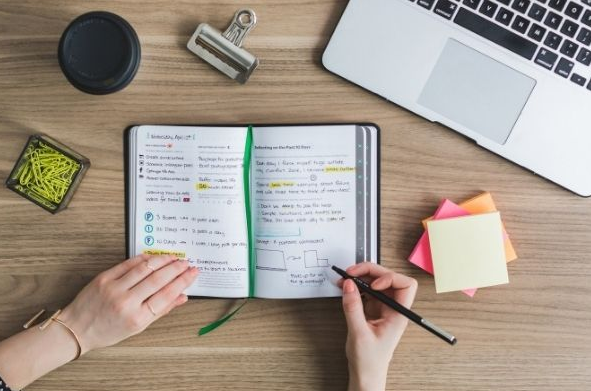 How can I maximise the amount of time I have each day for studies while preparing for a competitive exam? What are the best ways to organise my time? If you need answers, you'll find them in this article. Nevertheless, we have you covered, as we will now share the most helpful time management tips for students who wish to study efficiently and perform better on exams.
Also, read 8 Tips for Competitive Exam Success for Students
Time Management – What Is It?
Students who succeed know that time management is crucial to their academic performance and a crucial part of preparing for any kind of competitive exam. No matter how hard you study, if you don't have good time management tips, your studies won't pay off. This is because there won't be a match between the schedule you need to learn and the time you have available.
Most competitive tests are timed and cover a large amount of material. Many students, despite their best efforts and extensive study, are unable to get the passing grades necessary to obtain their preferred seating arrangements solely due to a lack of time management skills.
Knowledge and speed are both put to the test in these competitive examinations. Time management challenges are worth persevering through since the rewards are great once you get the hang of it.
Now that you've made the conscious decision to manage your time, you should do it as wisely and effectively as possible.
When creating a timetable and setting objectives that appear doable in theory but are challenging to achieve and maintain in practice, most students become overly enthusiastic. It's the only practical method of time management that has any chance of success.
Thus, the question of how to make the most of one's limited time remains unanswered. The following are some terrific time management tips that should assist you and offer some much-needed clarity to the situation.
Let's Start our quest for the Best 5 Time Management Tips for Competitive Exams.
1. Make a plan for how to use your time
Having a system in place to keep time organised is essential. A more effective plan may be developed with its aid. Get started on your preparations for the exam months in advance. The overarching goal is for you to be able to see clearly into the future in terms of your daily, weekly, and monthly plans. Get your daily, weekly, and monthly plans in order.
When you take the time to carefully plan out your days and weeks in advance, time may become a partner rather than a threat. This can help you determine how much time you need to devote to your studies, sleep, and other activities. This will give you an accurate view of the time remaining and the ground that still needs to be covered.
You'll be able to prioritise your time and energy accordingly. With this information in hand, you'll be able to devote more time to your studies and less to non-essentials.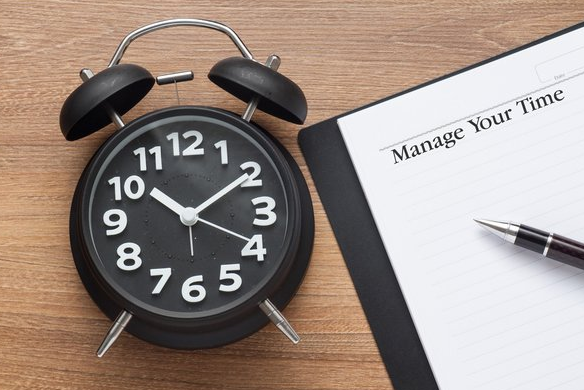 2. Set up a Timetable and Regular Habits
Preparing a proper time chart or arranging your studies is the most crucial thing in terms of time management. You now have a clear picture of your schedule, an understanding of your available time, and a list of priorities. The time has come to create a plan that works for you and takes into account your priorities, as revealed by your research.
Do not overcommit; instead, maintain a steady routine and choose the activities that feel the best for you. Make a clean time schedule outlining everything you want to do that day and choose weekly planners that will help you see the larger picture.
Plan out your days so that you can clearly see the unavoidable events, such as your daily lessons, tutorials, and jobs. Next, include study time by setting up long stretches of time throughout the day for study and interspersing them with brief review sessions.
Planning your most productive study time around the times you're awake and aware is essential. Sleep, physical activity, mealtimes, and any other non-study activities should all find a place in your routine as well. A more organised plan increases the likelihood of achieving your goals.
Making a plan for the day's activities before you start can help you focus your efforts and get the most out of your study time.
Also, read 10 Super Tips for Cracking NEET 2023
3. Set priorities for your Studies
Don't put your career in the back seat while you focus on other things. The key to effective time management is prioritising tasks so that you can stay focused and finish what you start. Identifying what has to be done first and then carving out time for it is the best time management strategy.
Making a list of your top priorities will give you more control over how you allocate your time and energy as you get ready. Studying, of course, in which you devote more time to your weakest regions and less to your strong ones.
Now, it's time to delve even further into the subjects or topics and assess the amount of time needed for each, etc. For example, if one topic is more difficult than others, you should spend more time studying it and less time studying things you already know well.
Planning out how you'll get everything done and cover all you need to throughout the course of the week, the month, and the year according to your priority analysis can give you a leg up. Planning how you'll spend your time will make you more conscious of how you spend it and less prone to fritter it away.
4. Review your plan's effectiveness
To do well on a competitive exam, you need to do more than simply study hard, you also need to complete your studies to your specific goals. First, evaluate how you spent your time over a longer period of time, say a week. The most efficient approach requires you to maintain a record of everything you do for a whole week, from the time you open your eyes in the morning to the time you close them again. It's essential to keep records of everything.
One more point should be kept in mind as the preparation continues, the students understand the flaws in the plan and need to make regular time changes after reviewing the earlier plan, With time the students understand the syllabus of the competitive exams and how to update the plan.
If you've realised that you're spending too much time on a less effective strategy you may regain some control over your schedule by modifying your behaviour. In the end, you'll feel a new array of understanding, and that'll be motivation enough to make a change.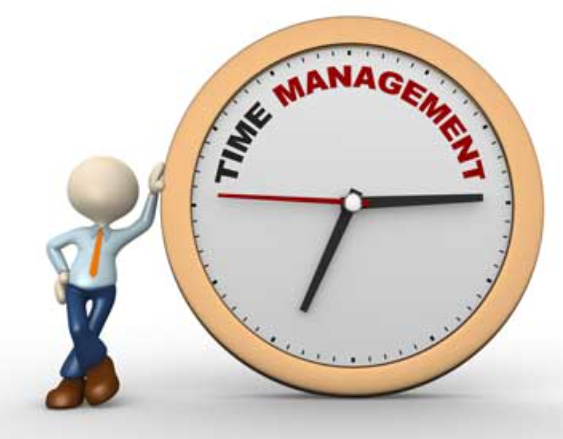 5. Stay with the Planned timetable
The most common time management faux pas made by students is a failure to stick to the plan. The most difficult aspect of planning and organising your time will be keeping to your schedule and other obligations.
Maintaining the timetable you've established is essential, so be sure you stick to it religiously. Without genuine honesty and sincerity, nothing you do will amount to anything. Keeping the study schedule throughout the year will help you avoid having to cram at the end. This, of course, requires the discipline to go back to the timetable and follow that to the dot.
Don't worry about anything and always look on the bright side of life. Practising some meditation and light exercise may go a long way in that direction. Time management during preparations calls for a great deal of focus, reason, self-control, and determination.
CONCLUSION
There's no easy way out, so you'll need to stick to a planned timetable if you want to achieve your goals.  The above-mentioned Best 5 Time Management Tips for Competitive Exams without a doubt be able to increase your chances to score high in upcoming competitive exams. There is no one right way to prepare for an exam; some students learn best with background noise, while others prefer complete silence.
Determine the most effective means of study for yourself. An approach like this will facilitate effective learning.
For students to succeed on the exam and launch their careers at their, remember to use time management tips consistently.
Also, read 8 Tips to Excel in the New-Age Job Market