Education facts: Great JEE Mains Apr 2021 postponed
Posted by
S. Vishnu Sharma
on April 18, 2021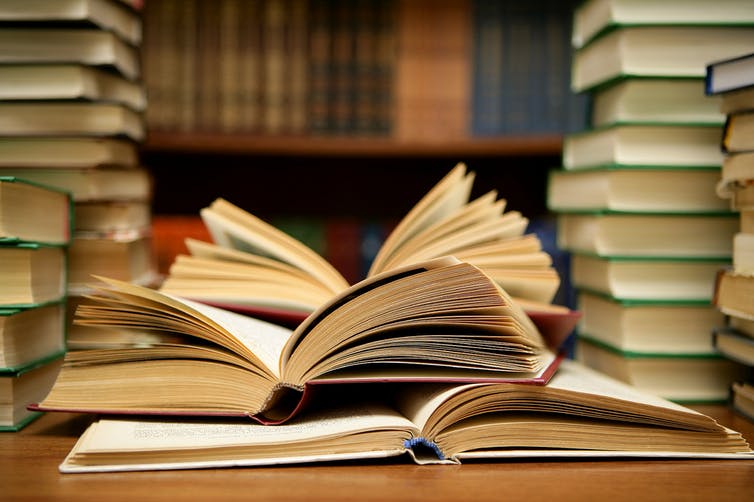 Education facts is about recent developments in the field of academics that are worth noting.
Be it developments regarding exams or practical tests or notifications for admissions or competitive exams for higher education entrance, education facts will be dealing with all of them.
Purpose behind education facts is to help students and all other stakeholders know the latest happenings so as to enable them to make a right decision.
Education facts
1. Class 12 exams
The board exams have always played a crucial role as far as academic arena of our country is concerned.
CBSE 10th exams are cancelled and 12th class exams of the same board are postponed. Many other state education boards also have postponed 12th exams.
Postponement of exams has caused enough worry among students as that could have an impact on their move towards higher education.
Sources familiar with education roundup say students are worried particularly about those universities or colleges that follow the criteria of 12th class based cutoff marks system for admitting students into undergraduation courses.
While admission into higher education is not the only cause of concern. Many feel postponing exams is not a good decision, as it may impact their career.
While there may be no answers as of now, however, many pray that clarity would prevail as the time moves ahead.
2. ICSE and ISC exams
ICSE and ISC exams have become a subject matter of attention.
Council for Indian School Certificate Examinations (CISCE) too now moved in the direction the other education boards have moved.
CISCE has postponed board exams for class 10 (ICSE) and class 12 (ISC). The exams were to begin from 4 May, decision on new dates for conducting exams will be taken in the first week of June, says sources familiar with education facts.
The rise in the number of COVID-19 infections across the nation has been the reason behind the change in the exam schedule.
The exams for class 12 will be conducted on a later date, however, students appearing for 10th class exams will have two options, says sources familiar with education facts.
Students of 10th class can write their exams offline along with 12th class students or not write them at all.
CISCE will bring out a fair and unbiased method to prepare the results of candidates who have decided not to write the exam, say sources familiar with education facts.
3. IIT Delhi students
IIT Delhi authorities are said to have suggested the students and research scholars not involved in lab work or project work to go home.
The decision comes amidst a situation when students on the premises have contracted COVID infections.
Sources familiar with education facts said about 25 students are said to have tested positive for COVID-19 in the recent times.
Also, there are cases even among the faculty members.
The faculty have an option of isolating themselves in their homes, this is not available for students residing in hostels.
Though there is an internal quarantine facility, that is quite small. Sources say, students can come back to the institution once normalcy is restored.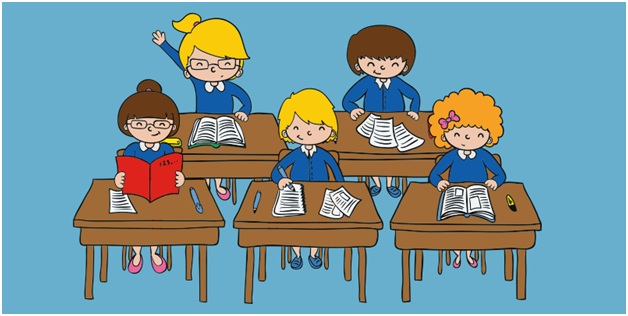 4. Colleges, classes in Tripura
The second wave of COVID-19 infections did not spare Tripura also.
Sources familiar with academics and education facts say, State Government has decided to suspend classes in schools, colleges, professional education colleges in the state from April 17.
The decision comes amidst the rise of number of COVID-19 infections. While the classes have been suspended, there will be no change with regards to ongoing school, college and university examinations.
Physical classes have been suspended and sources familiar with education facts say, the classroom sessions will likely be conducted online.
5. NATA 2021 answerkeys
Council of Architecture released the answerkeys in connection with National Aptitude Test in Architecture 2021.
Sources keenly following education facts say, candidates who wrote the test can visit the official website of the exam at 'http://www.nata.in' to download the answerkeys.
Students can visit the official website by clicking the above mentioned url and once the website downloads, they have to click the appropriate link for downloading the answerkeys and enter the required credentials.
Post entering the credentials, students can login and download the answerkeys.
6. IGNOU admission deadline
The deadline for submitting applications for January 2021 session of Indira Gandhi National Open University (IGNOU) is extended till April 30.
Students interested in various courses can register at the official website of IGNOU at 'ignou.ac.in'
Sources keenly following the developments on the academic front and education facts say the earlier planned last date was April 15.
Also read 'Last date to apply for UPCET 2021 exam has been extended. Click here to know till when you can apply for the exam'
However, the extended deadline is not applicable for certificate, semester based and merit based courses.
Candidates can visit the official website of IGNOU and click the link 'Online Admission January 2021 Session' and register to obtain username and password.
Post obtaining the username and password, applicants can login and commence applying.
Post filling the details, applicants have to upload required documents and pay the fees and submit the application.
7. Programme in Project Management
Indian Institute of Technology Delhi invites applications for a certificate programme in project management.
The duration of the course is five months and is being offered under the Continuing Education Programme (CEP) and will begin on June 23.
Sources familiar with education facts say the last date to submit application is June 7. Interested individuals can visit the website through the url 'eruditus.secure.force.com/LoginPage?pid=a072t00000CJRP0'
8. Bangalore university exams
Bangalore University has also joined the stream of those educational institutions that have postponed exams.
Undergraduate and postgraduate exams were to begin from 19,20 and 21 April onwards. However, now they will start from some other date which will be announced later.
Sources keeping a tab on education facts say, first, second and third semester BArch/BTech (CBCS scheme) that were to begin from April 19 were postponed.
Exams which were to begin on April 20 onwards – MBA, MCA, MEd and MSc (Statistics) are also postponed.
The third semester post graduate exams of MA, MSc and MCom were also postponed.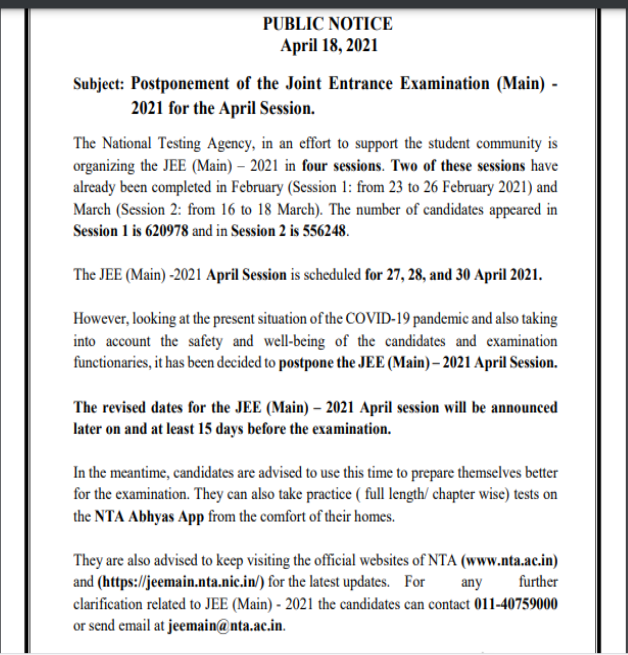 9. JEE Mains April
Things dont seem bright with education sector in India. Corona virus outbreak never allowed anything to take place on the academic front as per the schedule last year.
The same factor seems to play spoilsport even now. Sources familiar with education facts say National Testing Agency (NTA) has postponed JEE Mains April exam.
The halltickets were to be released soon for the test, but that has been put on hold as of now.
Sources say, NTA has decided to conduct the exam on some other day keeping in view the rising corona virus infections and the safety of students and examination staff.
The new dates will be announced atleast 15 days before the commencement of the exam.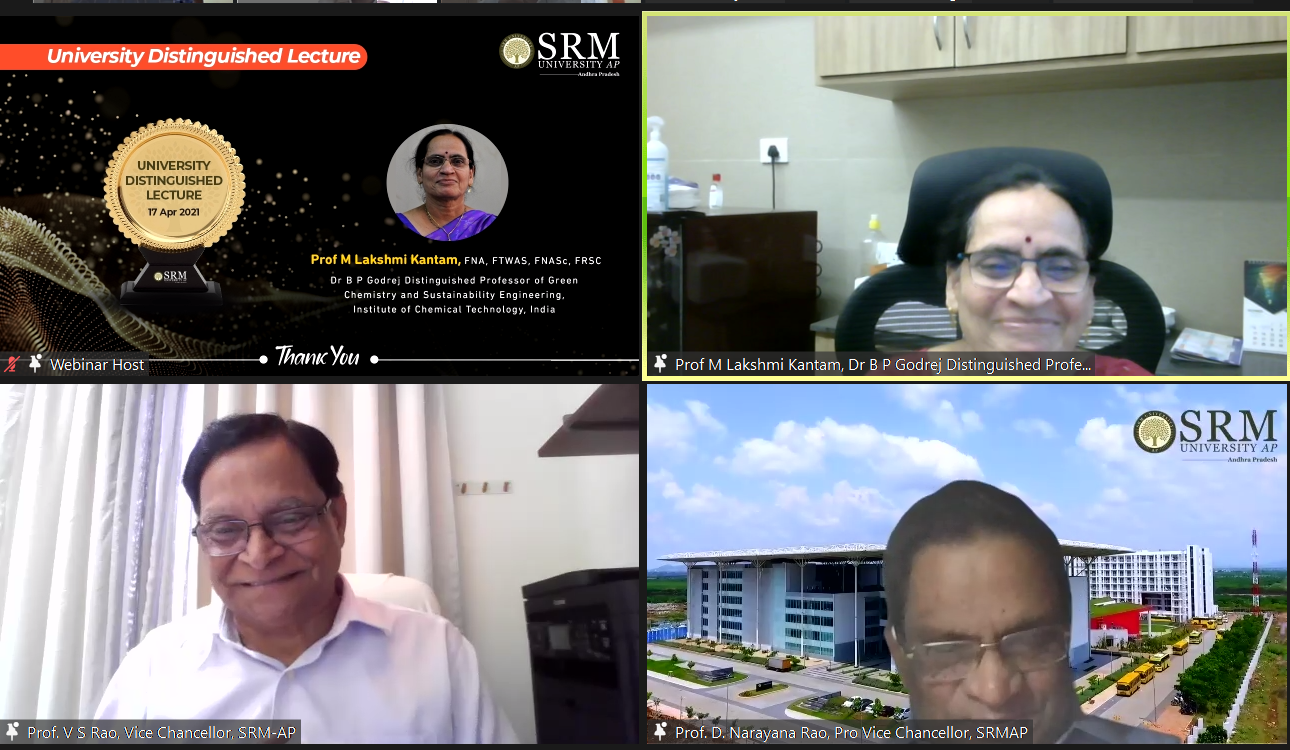 10. Eminent professor delivers special lecture
SRM University AP was the centre of attraction when eminent Professor Lakshmi Kantam Mannepalli delivered special lecture.
Professor Lakshmi Kantam is Dr B.P. Godrej Distinguished Professor of Green Chemistry at Department of Chemical Engineering, Institute of Chemical Technology, Mumbai.
She spoke on 'Design and Development of Homogeneous/Heterogeneous Catalysts for Sustainable Chemical Industry.'
Global and Indian chemical industry estimate 5.1 trillion and 108.4 billion USD in 2021.
Catalysis is a highly demanded technology for a sustainable society and drives innovation in many other fields, she said.
Achieving the high catalytic selectivity is the aim of catalysis science in 21st century, she said.
She also stated in her presentation the catalysis of organic reactions by homogeneous and heterogeneous catalysts remains a diversified field of scientific inquiry.
It attracts a large group of scientists with specialties spanning synthetic organic chemistry, inorganic chemistry, surface science, material science, reaction engineering and computational modeling.
As a part of Professor Lakshmi Kantam's research study, she briefly explained 'Hydroxyapatite (HA) is a hydrated calcium phosphate material, which is an important biomaterial because of its similarity to the mineral component of mammalian bone.
Professor D. Narayana Rao, pro vice-chancellor welcomed the gathering. Professor V.S. Rao, vice chancellor of SRM University AP were among those present.
Read More – Most toughest exams in India
11. Mahindra University organises TEDx conference
Mahindra University organized the fourth edition of its TEDx conference on 11 April.
Held virtually, this year, the conference's theme was "Alt+F4", a commonly used keyboard shortcut to close a currently active process, freeing up space to start another process or restart the process anew.
The idea was to learn from the speakers how to break stereotypes, look for fresh perspectives and alternate solutions in professional and personal lives.
'It is business as usual, even during these unusual times of pandemic, at the Mahindra University.
Our students have gotten into accepting the virtual learning mode and organization of this TEDx event is yet another example of that spirit of head-on challenge to the pandemic.
The theme was unusual but perhaps just right, in keeping with the pauses and new beginnings of the last year, and the guest speakers gave us plenty to think about.
We will not let the pandemic get the better of us and here's hoping that next year we are back to the live format, said Dr. Yajulu Medury, Vice Chancellor, Mahindra University.
Dr. Monojit Choudhury, Principal Researcher, Microsoft Research Labs, talked about research and how to overcome obstacles that comes in the way of researchers.
Through his talk, "Resist, Recast or Restart?", he took the audience on a journey through his own research experience and shared the different nuances of research on code-mixing and shared insights into how a career in research evolves.
Ms. Nancy Charaya, Co-Founder, Anthill Creations, shared her journey of creating playgrounds for the underprivileged.
She focused on how one can reboot their own career path to go on an entirely unchartered territory and also promote societal good.
Dr. Gayathri Vasudevan, Co-Founder, LabourNet, focused on the disruptive nature of Covid-19 and its impact on economy and livelihood.
She called for more collaborative and inclusive models that work by re-learning and coming together to make a difference.
12. Uttarakhand postpones exams
Uttarakhand Board of Secondary Education (UBSE) postponed exams for class 12 and cancelled the same for 10th class.
The decision regarding class 12 exams will be announced after assessment of the situation on June 1.
Sources familiar with education facts say the exams for classes 10 and 12 were to start from May 4 this year.
However, the rise in corona virus cases has brought this change with regards to exams, say those keeping a tab on education facts.
It is to recollect that National Testing Agency also postponed the date of UPCET 2021 and JEE Mains 2021 April.
As far as board exams are concerned, even Maharashtra, Uttar Pradesh, Rajasthan and Himachal Pradesh have also decided to conduct exams on another day keeping in mind the rising corona virus cases.
13. Jharkhand board exams
Jharkhand also has joined the stream of those states that have postponed the board exams.
Jharkhand Academic Council (JAC) has decided to not to conduct 10th and 12th class exams as per the earlier planned schedule.
Sources familiar with education facts say JAC has earlier cancelled all practical exams in connection with classes 10 and 12.
What brought change to the exam schedule? The sudden spike in corona cases.
Sources familiar with education facts say, decision about the exams will be announced after reviewing the situation on June 1.
14. JNV admission test postponed
The entrance test of admission into class 6 of Jawahar Navodaya Vidyalayas located across the country is postponed.
Sources familiar with education facts say this is the second time the change has been made to the exam date.
The admission test was to held on April 10 and that was changed to May 16. Admission test was to go on from 16 to 19 May. However, the new dates will be announced later.
Sources say, Navodaya Vidyalaya Samiti (NVS) which conducts the exam will announce the new dates atleast 5 days before the exam.
Sources familiar with education facts say the admission exam is for 100 marks and has three sections namely – mental ability, arithmetic test and language test.
Students have to answer 80 questions in two hours time.