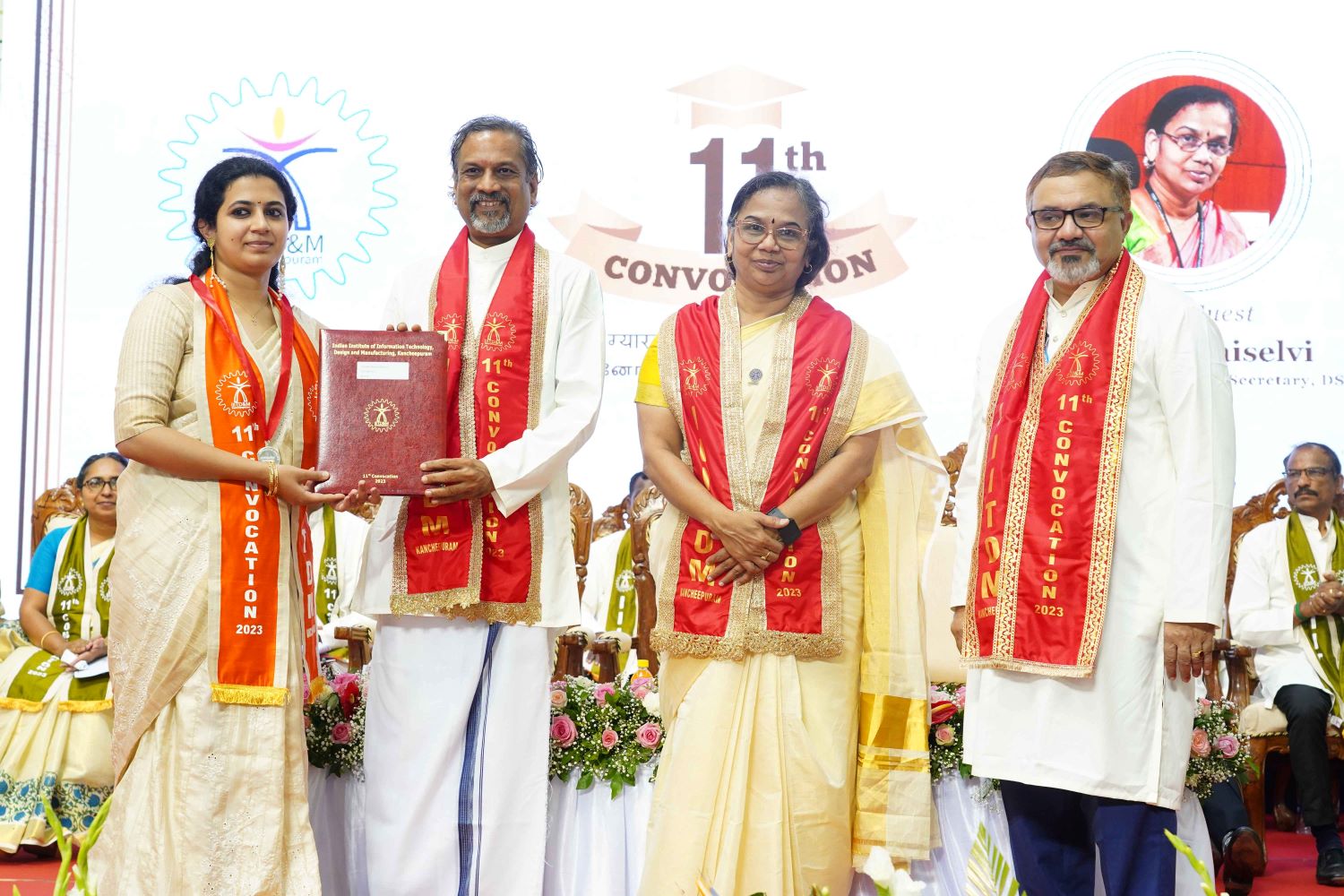 IIITDM Kancheepuram conducts its 11th Convocation
IIITDM Kancheepuram conducted its 11th convocation where a total of 411 students received their degrees. IIITDM Kancheepuram is a Central Government 'Institute of National Importance' located near Chennai in Tamil Nadu.
Those who received their degrees comprised 30 PhD, 149 Dual Degrees of B Tech and M Tech, 33 M.Tech, 12 M. Des and 187 B.Tech degree recipients.
The number of PhD scholars receiving their degrees this year is the highest since the inception of the institute, say sources from IIITDM Kancheepuram.
Establishment
Established in 2007 by the Union Ministry of Education as an academic and research institution of excellence, IIITDM Kancheepuram aims to develop a new generation of engineers and technologists with the ability to lead Indian industries in a globally-competitive economic environment.
It is one of the first institutes in India to integrate design, humanities, and management courses in its dynamic undergraduate engineering curriculum, say sources from IIITDM Kancheepuram.
Event
The convocation of IIITDM Kancheepuram was held in physical mode on 14 September 2023 in the presence of chief guest Dr. N. Kalaiselvi, Secretary, Department of Scientific and Industrial Research (DSIR), Government of India, and Director General, Council of Scientific & Industrial Research (CSIR), Dr. Sridhar Vembu (Padma Shri Awardee), Chairman, Board of Governors, IIITDM Kancheepuram, and Founder-CEO, Zoho Corporation, Prof. M.V. Kartikeyan, Director, IIITDM Kancheepuram, faculty, students and parents.
Chief guest
Addressing the convocation at IIITDM Kancheepuram, chief guest Dr. N. Kalaiselvi, Secretary, Department of Scientific and Industrial Research (DSIR), Government of India, said today is very important and special day because you (Students) are announcing that you have been qualified by a great organization for whatever you have studied so far…now, you are fully qualified and the whole world is open to you.
The world is expecting that what it is that you are going to do for the world. It is vice-versa as well…To start with, can I do something for this country, she said during the graduation day of IIITDM Kancheepuram.
'I think this is what you are supposed to think at this point of time. Today should be the day wherein we should start thinking in a different way how best these three components (Academia, Industry, Research Institutions) could be working together, through some tripartite agreement, because that is the need of the hour.'
The chief guest further said they are now passing through the very first year of the 'Amrit Kaal' period, which we will be celebrating till 2047.
Right at this point of time, the country has two important milestones, one is 2030, which is $5 trillion economy. When this kind of a $ 5 trillion economy is announced by the National leadership as a milestone target, is it not our responsibility to live up to that expectation?
When the national leadership is making a promise, a commitment, an agreement and an announcement, who else will make it in real time that it is, will be and could be possible? it is this place you and me should rise to this occasion, she said speaking at the graduation day of IIITDM Kancheepuram.
'Now, Data is money, Data is business, Data is science, Data is technology and Data is the future.'
Also read – Indian B-Schools Shine Globally: FT Masters in Management Ranking 2023
The Information Technology that you are getting expertise from this Institution, it should be applied in a totally different way for its translation to transform the country in a major way, said the chief guest.
Dr. N. Kalaiselvi added, "The country now requires design in many different forms…Climate change is making us think in all possible directions that how can I ensure safety, security and sustainability to live on this earth.
'We are not able to even today confirm how best we can make this earth a perfect place to live.'
This kind of a global warming-related threat that really forces us to think in terms of carbon capture and energy management but at the same time, climate resilient crops and buildings which will require your design aspects, she said at the IIITDM Kancheepuram graduation day.
Funding and placement
The total amount of funding granted to IIITDM Kancheepuram faculty members in the financial year 2022-23 by external funding agencies as sponsored projects was Rs. 3.29 Crore.
The funding agencies include DST-SERB, MEITY, DRDL, ISRO, NBHM and TiHAN of different IITs, among others.
The Institute Placement Cell has been collaborating extensively with the industry, corporate firms and other recruiters. In the current year, 176 offers were received by IIITDM Kancheepuram students from 76 companies with the median salary offered being Rs. 11 lakh and an average salary being Rs. 8 lakh.
Chairman, Board of Governors, IIITDM Kancheepuram
Dr. Sridhar Vembu, (Padma Shri Awardee), Chairman, Board of Governors, IIITDM Kancheepuram, said, "The greatest advantage that IIITDM Kancheepuram has as an organization is its connectedness and singularity of purpose.
Ours is not an unmanageable population with people of different directions. The institute is actually a chosen group of people from different backgrounds trying to realize one idea.
To express that in very technical terms – it is to teach and ideate information technology-enabled design and manufacturing. It is a privilege to work toward a well-defined idea and especially when there are very few organizations concentrating on that.
The challenge here is all about understanding, defining, and keeping up with the demands of a world that is so technology-driven, he said.
Institute Report
Presenting the Institute Report, Prof. M.V. Kartikeyan, Director, IIITDM Kancheepuram, said, "I proudly announce that in the NIRF Innovation Ranking 2023, IIITDM Kancheepuram is ranked 8th in the country.
Most importantly, this is not a one-year occurrence for us…There is a significant improvement in our NIRF ranking too. In 2022 we were ranked 184, and in the 2023 ranking we notched up a position in the 101-150 band, said director of IIITDM Kancheepuram.
MaDeIT Innovation Foundation is our business incubator which onboarded nine companies in 2022-23 taking the current portfolio to 21 companies, he said.
The incubator funded Rs. 25 lakh to Canary Biosensors under NIDHI – Seed Support Program and it extended its support to 11 MSMEs through Innovation Voucher Program of Entrepreneurship Development and Innovation Institute, Tamil Nadu Government.
iDEX, Innovations for Defence Excellence, an initiative of Defence Innovation Organisation – Ministry of Defence, selected MaDeIT as one of its partner incubators. MaDeIT signed a MoU with IITM Pravartak Technologies in 2022-23, he said.