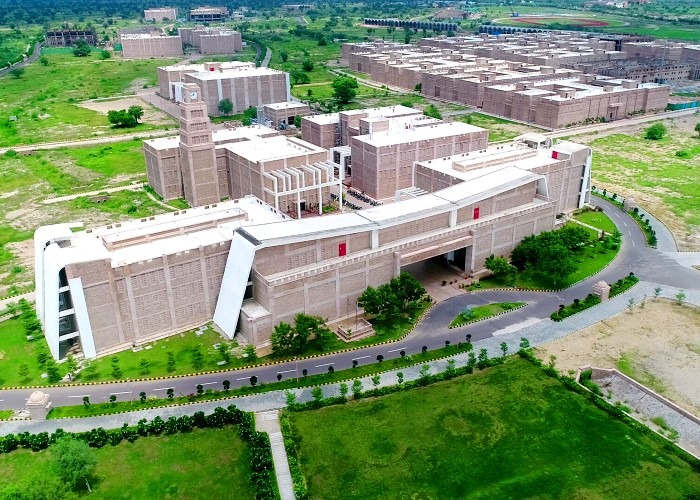 IIT Jodhpur invites applns for PhD, apply till 20 Oct 23, link to apply here
IIT Jodhpur invites applications for PhD courses and last date to apply is 20 October 2023. Applications can be submitted at 'Apply at https://oa.iitj.ac.in/PG_ADMISSION/'
Those who wish to pursue doctorate in subjects related to the fields on technology, engineering, sciences, liberal arts, management and entrepreneurship can register.
Process of admitting students into PhD courses offered by IIT Jodhpur involves a written test and an interview. Candidates applying for the doctorate admission must pass the written test with required qualifying marks.
Those who pass the test can appear for the interview. Selection will be done based on performance in the test, interview, qualifying exam, choice of the course by candidates and available seats.
Institution
The Institute has faculties of international repute, excellent research infrastructure and vibrant student community on the campus.
IIT Jodhpur's dedicated faculty members and astute student researchers have notably published a wealth of research in journals and conferences of international repute, contributing significantly to the global scientific community.
In collaboration with both global and local industries, IIT Jodhpur have developed and commercialized innovative technologies, fostering a thriving ecosystem of research and practical application at the institution.
Objective and qualification
The main objective of the doctoral programme at IIT Jodhpur is to provide cutting-edge inter-disciplinary research, and to train the next generation of academics that inspire future technology with sustainable solutions.
The applicant must have a master's degree in engineering, pharmacy, agricultural science, science, humanities, social sciences, management with at least 60% marks or at least 6.0/10 CPI or CGPA for GEN/GEN-EWS/OBC (55% for SC/ST/PD).
Also read – IIT JAM 2024 registration last date is now 20 Oct 23, link to submit appln here
The B.Tech graduates from centrally-funded technical institutions (CFTI) with a CGPA of 8.0 and above are eligible to apply to all PhD courses at IIT Jodhpur without writing the Graduate Aptitude Test for Engineering (GATE).
However, students with CGPA lower than 8.0 are required to write the GATE to be eligible. PhD Programmes are available in the following categories:
Regular with Institute Assistantship, Individual Fellowship (i.e. CSIR/UGC/DBT/ICMR/INSPIRE etc.)
Sponsored, Working Professionals
Part-time
Part-time (Online)
Indian Nationals Residing Abroad (INRA) and foreign nationals
Regular PhD students will be eligible for Research Assistantship (RA) and Teaching Assistantship (TA) [Financial support as per Ministry of Education norm], say sources from IIT Jodhpur.
The Institute also gives financial support to present research work at international and national conferences, say sources from IIT Jodhpur.
Departments
The applications for doctorate courses are being invited by below mentioned departments of IIT Jodhpur:
(1) Artificial Intelligence and Data Science
(2) Bioscience and Bioengineering
(3) Centre for Emerging Technologies for Sustainable Development
(4) Chemistry
(5) Chemical Engineering
(6) Civil and Infrastructure Engineering
(7) Computer Science and Engineering
(8) Electrical Engineering
(9) Liberal Arts
(10) Mathematics
(11) Management and Entrepreneurship
(12) Mechanical Engineering
(13) Metallurgical and Materials Engineering
(14) Physics
In addition, applications are also invited in the following inter-disciplinary areas:
(1) Digital Humanities
(2) Internet of Things and Applications
(3) Quantum Information and Computation
(4) Robotics and Mobility Systems
(5) Smart Healthcare
(6) Space Science & Technologies
Where to submit applications?
Indian nationals and foreign citizens can apply for the doctorate at IIT Jodhpur. The process to apply for the doctorate at IIT Jodhpur is online.
Candidates have to visit the official website with help of URLs and then register and start applying. The applicants will be intimated either on their mobile phone or email about the further procedures after applying.
Indian nationals can apply at 'https://oa.iitj.ac.in/PG_ADMISSION/'
Foreign nationals can apply at 'https://oa.iitj.ac.in/OA_PG_ADMISSION_INTRNL/'
Collaboration
IIT Jodhpur also has collaborations with international Universities to foster collaborative research projects between students and faculty, such as University of Buffalo, USA, and University of Albany, USA offering Joint degree programs.
This enables students pursuing their PhD at IIT Jodhpur to go on exchange programs in such international campuses. IIT Jodhpur also provides hostel facility with single occupancy with Air-Conditioned rooms to all PhD students.
In IIT Jodhpur, we maintain an open and collaborative culture where student-guide selection is guided by mutual agreement, enabling meaningful interactions with our faculty, said Dr. Soumava Mukherjee, Associate Professor, Department of Electrical Engineering and Coordinator of PG Admissions, IIT Jodhpur.
After the initial semester, students have the autonomy to shape their academic journeys, while a robust monitoring system ensures their progress, said Dr Soumava of IIT Jodhpur.
Moreover, we are dedicated to fostering innovation and entrepreneurship, offering students a one-year extension or break after five years of study to empower them to pursue entrepreneurial endeavours, he said.