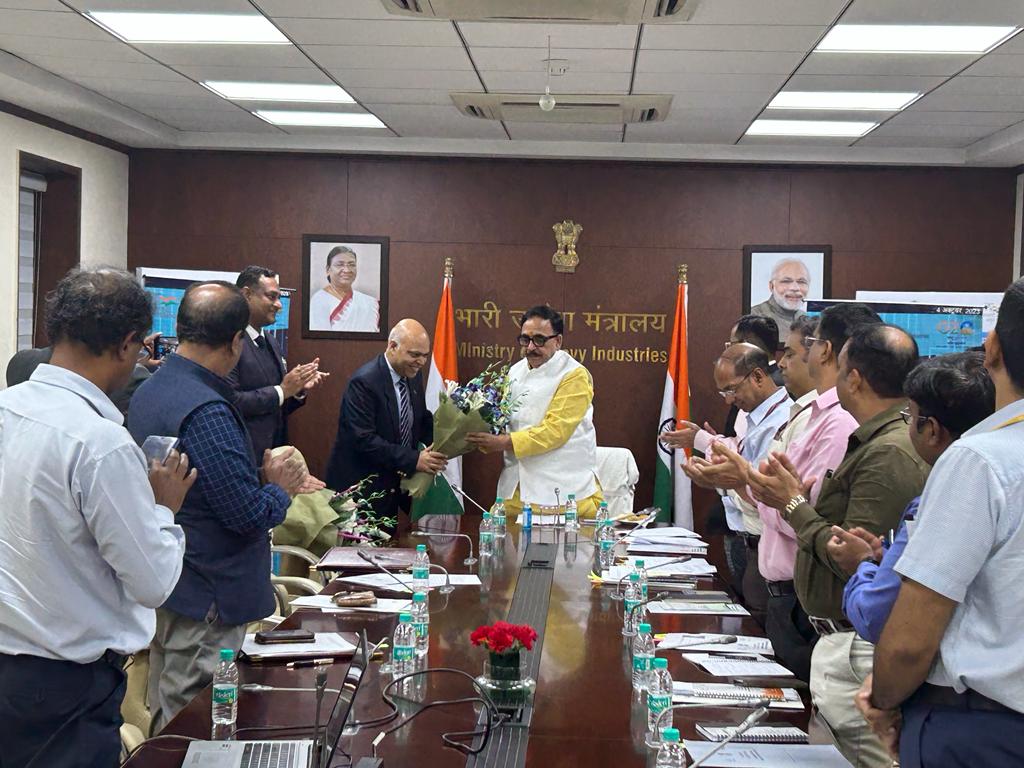 IIT Roorkee and ICAT join hands to make automotive industry a global leader
IIT Roorkee and ICAT have joined forces to usher in a new era of innovation and excellence in the automotive sector. This strategic partnership, marked by the signing of a Memorandum of Understanding (MoU) at the Udyog Bhawan, is all set to propel India to the forefront of automotive innovation by spearheading the development of cutting-edge technologies.
The full name of ICAT is International Centre for Automotive Technology. Union Minister of Heavy Industries, Dr. Mahendra Nath Pandey, chaired the MoU signing ceremony.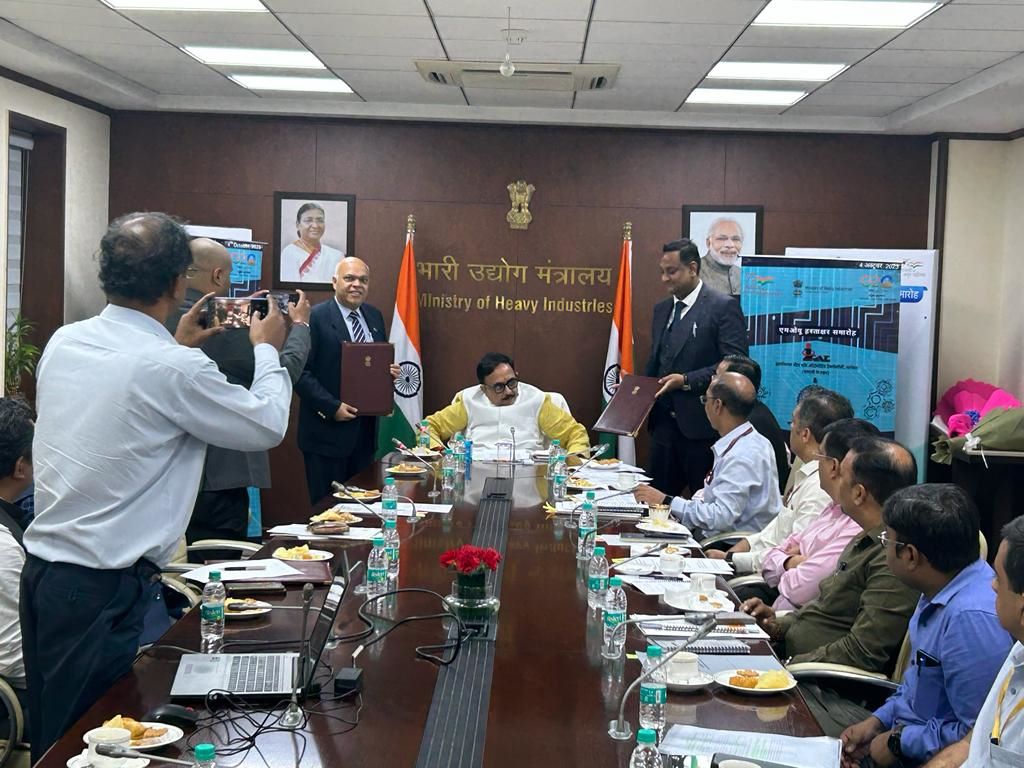 Kamran Rizvi, Secretary (HI), Vijay Mittal, Joint Secretary, Dr Hanif Qureshi, Joint Secretary, Mr. Saurabh Dalela, Director-ICAT, Prof. Akshay Dvivedi, Dean Sponsored Research and Industrial Consultancy IIT Roorkee and senior officials from MHI participated in the event.
Emphasis
While the emphasis on clean mobility through e-mobility has been in place in India, the GoI also focuses on emerging automotive technologies like autonomous driving and AI, including a significant impetus on the safety aspects of next-gen mobility solutions, say sources from IIT Roorkee.
This collaborative effort aims to develop India's first Advanced Driver Assistance Systems (ADAS), pioneering 6G technologies and advancing smart vehicle propulsion systems, say sources from IIT Roorkee.
Vibrant ecosystem at IIT Roorkee
IIT Roorkee boasts a vibrant and thriving innovation and incubation ecosystem, with over 150 startups dedicated to creating tangible value rather than solely fixating on valuation.
As a part of this collaboration, ICAT has been requested to play the role of a Catapult in improvising the technology readiness levels of the innovations by faculty and students-led startups from IIT Roorkee to make them commercially viable as per the industry needs.
This unique approach underscores the institution's commitment to fostering innovation with a real-world impact. As part of its forward-looking strategy, IIT Roorkee has established a cutting-edge Connected Simulator setup under the SMILE scheme of the institute.
The design includes simulators for the pedestrian, two-wheeler, four-wheelers, and bicycles. This facility will serve as a crucial foundation for the advancement of technology, say sources from IIT Roorkee.
It signifies IIT Roorkee's proactive stance in preparing for the future, enabling researchers and entrepreneurs to explore, experiment, and innovate in a highly dynamic and technologically advanced environment.
A robust innovation culture and state-of-the-art facilities position IIT Roorkee as critical in driving technological progress and innovation in India and beyond.
A momentous leap
The partnership between two esteemed organizations signals a momentous leap forward in the Indian automotive landscape. It represents a commitment to fostering research, development, and innovation in crucial areas that will shape the future of transportation and meet the evolving demands of the automotive sector, say sources from IIT Roorkee.
Key initiatives
Key initiatives under this collaborative venture between IIT Roorkee and ICAT will encompass the development of hybrid engines capable of operating on multiple energy sources, including Hydrogen plus Electric and Petrol/Diesel plus Electric systems.
This endeavor could revolutionize the automotive industry by making vehicles more environmentally friendly and energy-efficient.
Also read – Solving Case Studies: 8 Step-by-Step Strategies for Management Students
This partnership will lead to the joint development of programs for the upskilling and reskilling students and working professionals in the automotive industry, meeting the requirements of PMKVY 4.0. In addition to technological advancements, this partnership will also prioritize the development of a skilled workforce equipped with the necessary background and expertise for the automotive sector, thereby making a substantial contribution towards realizing the vision of 'Atmanirbhar Bharat' (self-reliant India).
As the partnership between IIT Roorkee and ICAT moves forward, it promises to bring about transformative changes in the automotive industry, accelerate India's journey towards VIKSIT BHARAT @ 2047, and become a global leader in automotive innovation.
Union Minister
Union Minister Dr Mahendra Nath Pandey said The collaboration between IIT Roorkee and ICAT represents a visionary stride towards harnessing innovation for a stronger, self-reliant India.
As we steer towards 'VIKSIT BHARAT @ 2047,' our shared commitment to ADAS and other transformative activities echoes the vision of Prime Minister Modi to elevate India to global excellence, he said.
We prioritize the security and prosperity of our youth, fostering a culture of self-sufficiency. Focusing on the Capital Goods Scheme and reducing reliance on external testing, we invite the world to experience India's automotive prowess.
This partnership is not just a promise but a pledge to execute for the benefit of all, propelling our nation to new heights. I expect IIT Roorkee and ICAT to avail themselves of the current opportunity and bring bigger developments in minimal time, he said.
Director of IIT Roorkee
Prof. K. K. Pant, Director of IIT Roorkee, said, "Collaboration is the cornerstone of innovation, and this partnership between IIT Roorkee and ICAT is a testament to our commitment to driving technological progress.
Through this collaboration, we aim to unlock new horizons in automotive technology and research, contributing to the growth and sustainability of the Indian automotive industry.
We are confident that IIT Roorkee and ICAT will bring the best in class to the global automotive industry. With India's promising potential in next-generation mobility, this initiative aligns seamlessly with the Ministry of Heavy Industry's support for startups and academia, echoing the government's vision and mission led by the honourable Prime Minister Shri. Modi ji.
This collaboration holds the promise of driving innovation and creating a lasting impact on India's automotive landscape, bolstering the nation's journey towards self-reliance and technological excellence, said IIT Roorkee director.
Director of ICAT
Mr. Saurabh Dalela, Director, ICAT, said, "It is the vision of our Hon'ble Minister who is making all attempts to bring the Automotive Industry and Academia closer.
This journey is very important to ICAT and the whole country as we would play a vital role in bringing the academia and Industry closer, without which the journey towards Viksit Bharat would not be possible.
As we set out on this revolutionary journey with IIT Roorkee, we picture a future in which innovation powers every aspect of life and pulls us towards technologically sophisticated and sustainable mobility, he said.
Together, we are dedicated to developing ground-breaking solutions that, in addition to revolutionizing the automotive industry, also significantly advance the goal of "Atmanirbhar Bharat" by promoting the growth of a skilled workforce.
This collaboration demonstrates our commitment to establishing a better, greener, and more self-reliant Bharat'. Such industry-academia collaborations would significantly take our automotive Industry to the next level, he said.
Mr. Vishal Tiwari from IIT Roorkee, Mr. Anuraj P.B, and Mr. Saugata Pal from ICAT were also present during the MoU signing ceremony at the ministry, underlining their collective dedication to driving forward the automotive industry in India.
This collaborative spirit and shared vision are poised to bring about transformative changes that will shape the future of transportation and elevate India's global standing in automotive innovation, say sources from IIT Roorkee.