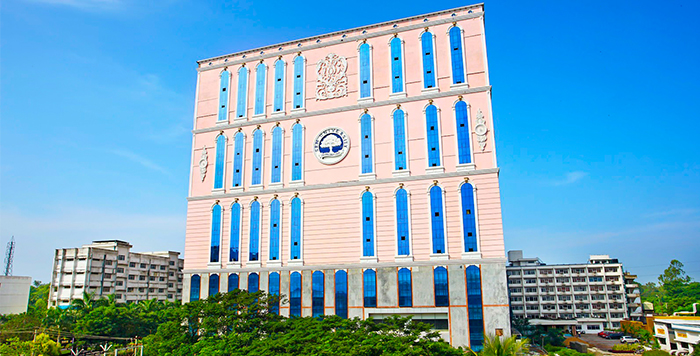 SRMIST Graduation Day remains impressive with 8500 students getting degrees
SRMIST conducted its graduation day in a very impressive manner where 8500 students received their degrees. SRMIST also known as SRM Institute of Science and Technology is a multi disciplinary education institution located at Kattankulathur near Chennai in Tamil Nadu.
T P Ganesan Auditorium was filled with thunderous applauds as the students rose to receive their degrees from the chief guest Prof Ricardo Leon Borquez, President of World Federation for Medical Education (WFME).
Chief guest speaks at SRMIST
Graduation Day is the most memorable day in your life, said Prof Ricardo. It is the end of one phase of life, and commencement of another, which involves constant learning.
Learning is a process that has no end, key to sustaining success in life requires one to be a constant learner. Perfection comes to those who are always searching for knowledge, he said at the convocation at SRMIST.
Speaking about medical education, he said it is a matter of great pride to get the opportunity to study medicine. It puts you on the track of medical practice whose major objective is saving the lives of people.
The study of medicine would be incomplete if it is sans the element of humanity. Adherence to ethics, inculcation of tolerance and imbibing perseverance are among the essential elements that make medical practitioners good healers, said the chief guest during the graduation day of SRMIST.
Doctor of Science
Secretary of Ministry of AYUSH of Government of India Vaidya Rajesh Kotecha and Dr P Veeramuthuvel, Project Director of Chandrayaan – 3, ISRO (Bengaluru) were presented Honorary Degree of Doctor of Science (D.Sc.) by Dr T R Paarivendhar, Founder Chancellor of SRMIST.
Dr. Veeramuthuvel
Dr.Veeramuthuvel speaking at the graduation day at SRMIST said failures should not prevent students from treading the path of success.
Success does not come easy, it takes a great deal of hard work. Citing the example of the success of Chandrayaan 3, he said a lot of tests had to be done on Moon Lander before the mission was launched, he said at the convocation at SRMIST.
Also read – IIT Jodhpur researchers design electrocatalysts for the synthesis
A big team of scientists was involved in conducting various experiments to ensure that things were okay with Moon Lander. An artificial environment had to be constructed in Karnataka and Andhra Pradesh that was similar to that of the moon to conduct various tests on Moon Lander.
Success was witnessed after a great deal of hard work, said Dr Veeramuthuvel. Never be afraid of failures, try to reach your goals with determination, he added.
Vaidya Rajesh Kotecha
Vaidya Rajesh Kotecha said education is power and a way to transform oneself. Learning is not mere mastering of facts and figures, it is much beyond that, it is a tool to enrich ourselves, and make our lives better, he said at the graduation day at SRMIST.
Dr P Sathyanarayanan, Pro-Chancellor (Academics) at SRMIST said curiosity and analysis are essential in life. Curiosity motivates one to learn more things, analysis provides the required knowledge. These two elements subsequently result in various innovations, he said.
Vice Chancellor of SRMIST Dr Prof C Muthamizhchelvan, Registrar Dr S Ponnusamy, Pro Vice-Chancellor (Medical) Lt Col Dr A Ravikumar, Chairman, SRMIST (Trichy and Ramapuram Campus) Dr R Shivakumar, and Correspondent of SRM Arts and Science College (Kattankulathur) Harini Ravi were among those present.
About SRMIST
SRMIST is one of the top ranking universities in India with over 52,000 full time students and more than 3200 faculty across all the campuses – Kattankulathur, Ramapuram, Vadapalani Campus – all in and around Chennai, Tiruchirappalli (in TN), Modinagar (in UP) & Sonepat (in Haryana) – both of which are located near Delhi NCR, Amaravati (in AP), Gangtok (in Sikkim) – offering a wide range of undergraduate, postgraduate and doctoral programs in six Faculties – Engineering & Technology, Management, Medicine & Health sciences, Science & Humanities, Law and Agricultural Sciences.