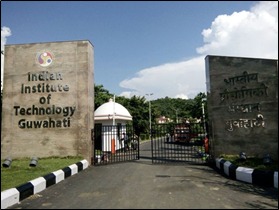 IIT Guwahati takes initiative towards boosting holistic education
IIT Guwahati is now working actively to achieve the rational targets it had set under the framework of NEP2020. The officiating director of IIT Guwahati Prof. Paramesar K. Iyer said NEP 2020 has set up the base for streamlining an array of progressive objectives, which is expected to catalyze the furtherance of academic and research excellence in the institutes of higher education.
NEP2020 envisions to setup a workforce to fulfill the needs of an enlightened, conscious, knowledgeable, and skilled Nation capable of identifying and solving its own problems for a long-term sustainability.

At IIT Guwahati, we are implementing NEP2020 in a phase-wise manner to make sure the best practices can be included in our curriculum in the most efficient way possible, he said.
Higher education institutions
On 29th June 2020, NEP2020 was introduced to bring systemic reforms in Higher Education Institutions (HEIs) of the country. In this regard, IIT Guwahati has implemented key features of NEP2020 through multiple inter, multi, and trans-disciplinary initiatives.
Enhancing Employability
For enhancing the employability of the youth, IIT Guwahati has established a dedicated unit offering online degree programs including Bachelor's Degree Prograame, and B. Sc. (Hons) in Data Science and Artificial Intelligence. Along with this, multiple PG programs in the areas of Computer Science, Robotics, Data Science, Machine Learning, Artificial Intelligence are in the pipeline that will maximize flexibility and engagement, enabling students to learn at their own pace, while optional campus visits will provide opportunities to engage with faculty and peers.
Research and Development
IIT Guwahati has identified thrust areas of research where it could be a leader, such as Health care, Translational Chemical Engineering Science, Agro-Food Processing, Traditional Foods and Agriculture Practices, Advanced Functional Materials and Chemical Biology, new generation batteries, Bioinformatics, Digital Healthcare and many more.
Also read – Top 20 Medical Colleges in Jaipur
In order to achieve this target, the Institute is progressing towards building a strong workforce of researchers with multi-disciplinary backgrounds to address challenges of research in inter/multi/trans-disciplinary areas.
Along with this, initiatives aimed at enhancing footprints of 'Skill India' and 'Atmanirbhar Bharat' programs have also been established in School of Agro & Rural Technology, Centre for Nanotechnology, School of Health Science and technology at IIT Guwahati.
At present, the institute is working on 470 research and 593 consultancy projects worth over Rs. 673.80 crores.
Integrated Teacher Education Programme
NEP2020 has a mandate of revitalizing the complete teacher education sector. To achieve this goal IIT Guwahati has proposed a Four Years Integrated Teacher Education Programme (ITEP).
The proposed Four years BA/B.Ed Programme will have multiple exit option including:
– 1 year – Certificate
– 2 years – Diploma
– 3 years – B.A
– 4 years – BA (Honours)/B.Ed
Improving school education
IIT Guwahati collaborated with Samagra Shiksha, Assam, (SSA) under the Rashtriya Avishkar Abhiyan of the Ministry of Education to develop scientific temper and strengthen students' ability to handle challenging environments.
Under this collaboration, IIT Guwahati is supporting SSA to conduct various state-level activities in a hybrid mode in state-run schools in Assam for secondary students.
On the occasion of National Science Day, the Institute launched the Qualifying round of the Quiz competition that took place in online mode and witnessed participation from around 5000 students from 33 districts of the state of Assam.
SDG Implementation
IIT Guwahati is #6 among the World's top 10 universities for SDG 7 (Affordable and Clean Energy) and among the top 200 universities for SDG 9 (Industry, Innovation, and Infrastructure).
The overall rank of the institute has also improved to 401 – 600 in 2023. Along with this, the Institute has also launched first-of-its-kind course on UN-Sustainable Development Goals 2030 in its Bachelor of Technology (B.Tech) curriculum
Along with these initiatives, IIT Guwahati is already offering options for multiple exits and movement between programs to further make the quality education accessible to the students.
In order to make the options even more flexible, as envisioned in NEP2020, a committee has been constituted at the institute to examine the same and make time-to-time recommendations on the same, say sources from IIT Guwahati.