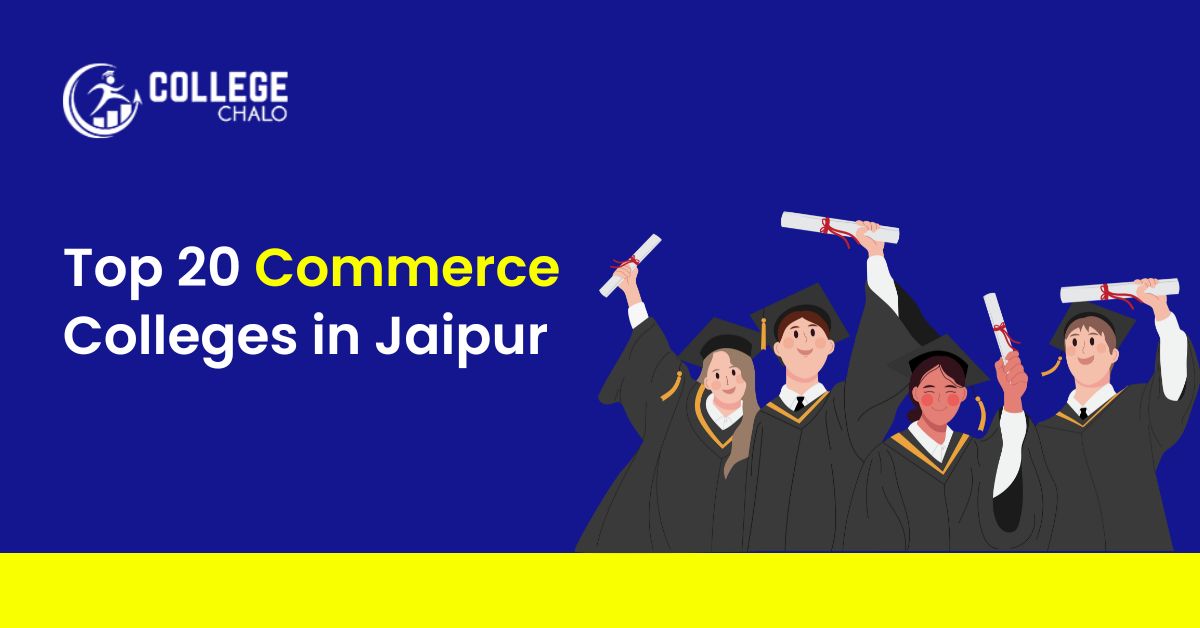 Top 20 Commerce Colleges in Jaipur
Are you an ambitious commerce student looking for a college? Stop looking! The "Pink City" of Jaipur has several respected commercial schools. This article will cover the best Jaipur commerce institutions. These schools will motivate you to study accounting, finance, marketing, or other commerce fields. So buckle up as we offer the Top 20 Commerce Colleges in Jaipur, each a jewel in this culturally rich city!
Also, read Top 20 MBA Colleges in Jaipur
Top 20 Commerce Colleges in Jaipur
Jaipuria Institute of Management
Jaipur National University
Poddar International College, Jaipur
IIS(Deemed to be University)
Poornima University
Wilfreds P.G. College, Jaipur
Parishkar College of Global Excellence
Xavier College
Biyani Group of Institutions
Shankara Institute of Technology
Maharishi Arvind Science and Management
Kanoria PG Mahila Mahavidyalaya
Maharani College
University of Rajasthan (Commerce Department)
Arya College
Gyan Vihar University (Faculty of Commerce)
Manipal University, ( Department of Management) Jaipur
JECRC University (School of Commerce and Management)
Banasthali Vidyapith
Deepshikha College of Commerce
1. Jaipuria Institute of Management
Jaipuria College in Kolkata launched the Jaipuria educational heritage in 1945. Our 7-decade, 4-generation tradition distinguishes us from other Indian management colleges. In 1995, its Lucknow campus began management education. India's top B-school is the Jaipuria Institute of Management and it is among the Top 20 Commerce Colleges in Jaipur. Four world-class campuses in Lucknow, Noida, Jaipur, and Indore provide AICTE-approved PGDM courses.
Management education is lengthy, hard, and lucrative. They think that confidence and self-awareness start the trip, but to win, you need a team that works hard too. Jaipuria encourages every student to reach their potential.
Our dedication to management education has made us one of the nation's top B-Schools. NIRF (Ministry of Education) recognised our four campuses among India's best management institutions. Visit our website if you want to maintain this heritage.
2. Jaipur National University
Next of the Top 20 Commerce Colleges in Jaipuris a top research institution that prepares students for careers. Research, creativity, and community outreach benefit Rajasthan, India, and the globe. JNU, formed on October 22, 2007, combines history and contemporary in a realistic and hopeful way to achieve greatness every day, like our city. The University connects to all major Indian cities via air, train, and road. It is 15 minutes from the airport and 30 minutes from the railway station and bus stop.
The National Motorway NH 8 cuts travel time from Delhi to Jaipur to four hours. They concentrate on education and vital skills to help students succeed in life. This holistic education helps students reason, evaluate, and communicate. Numerous regulatory agencies verify and accredit JNU's professional and technical courses. Each curriculum blends theoretical and practical knowledge to achieve professional success. Industry linkages and interactions enhance this learning and produce the ideal candidate for every task.
3. Poddar Institutions
One step starts a thousand kilometres. It requires thought and reluctance. In 1998, the Poddar Group of Institutions started its remarkable adventure with a burst of excitement and is among the Top 20 Commerce Colleges in Jaipur.
Poddar International College Affiliated with the University of Rajasthan, Jaipur; one of the group's premier institutions, is centrally located and equipped with all the major amenities. NAAC  has accredited the college. It has received the "Best Upcoming Higher Education Institute of Rajasthan" award from ASSOCHAM, Ministry of Human Resource Development, New Delhi.
It is one of the few Rajasthan institutes shortlisted for NIRF (National Institute of Ranking Framework), under Govt. The Department of Science and Technology, Government of Rajasthan, Jaipur awarded the college a significant project to construct a Biotechnology Business Incubation Centre.
4. IIS(Deemed to be University), Jaipur
IIS ( Deemed to be University ) is a cosmopolitan and vibrant University and is among the thirty-eighth deemed-to-be-a-universities in India placed in the category 'A' by the Ministry of Human Resource Development, Government of India. It is known for its excellence in imparting meaningful education to students and encouraging them to think innovatively.
It particularly focuses on empowering women to face the challenges of life with confidence and also provides creative leadership. The University imparts higher education mainly to girls in different faculties through its well-structured departments and institutional patterns.It also has student exchange, internship, and training MoUs with top universities, institutions, and MNCs. Research-based learning enhances student skills at the college. Thus, it has partnered with Rajasthan Skills University to acquire industry-specific skills.
5. Poornima College of Engineering
Next on the Top 20 Commerce Colleges in Jaipur, the Private engineering institution Poornima Institution of Engineering is a famous educational organisation Shanti Education Society founded in the year 2000. The college promotes innovation, research, and technical education. Poornima College of Engineering provides undergraduate and graduate engineering programmes.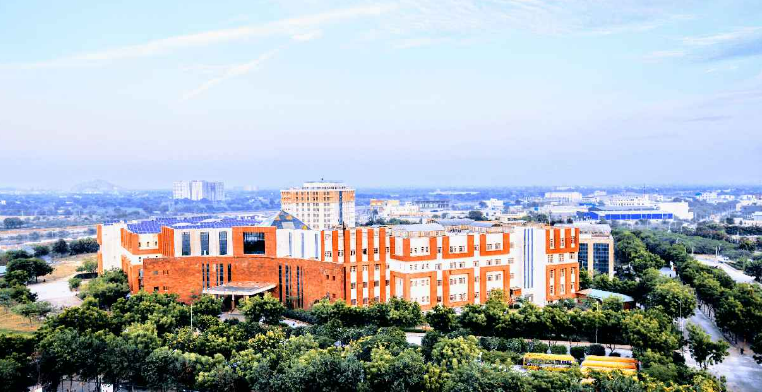 The college provides a Bachelor of Technology (B.Tech.) programme in Computer Science and Engineering. Programming, data structures, algorithms, computer networks, database management systems, software engineering, and artificial intelligence are taught. Poornima College of Engineering has well-equipped labs, competent teachers, and industrial partnerships. Workshops, seminars, and technical events are also organised by the institution to help computer science students improve their practical knowledge and abilities.
6. St. Wilfred's PG College
Next, the Top 20 Commerce Colleges in Jaipur are famous for their classical building and meticulous planning and landscaping making a wonderful learning environment. The campus is well-linked to all regions of Jaipur's industrial and institutional centre.
Innovation-led research drives St. Wilfreds. Infrastructure and practises state this. The diverse research covers subject-specific investigation and the business world in which our students will work. Wilfreds has significant research and industrial ties.
We work with Google Cloud, Microsoft, and Amazon Web Services to provide students with the newest IT skills. These relationships helped us recruit industry specialists, which is tough for education ecosystems, and increase innovation via information sharing.
Wilfreds creates research and creative culture, academic and professional development, and cultural enrichment to benefit businesses and society.
Also, read Top Women Colleges in Jaipur
7. Parishkar College Global Excellence
Moving on next College on the Top 20 Commerce Colleges in Jaipuris Rajasthan's first UGC-accredited college. NAAC (National Assessment & Accreditation Council—UGC, Govt. of India) gave Parishkar College of Global Excellence an "A" grade. We scored first among Rajasthan's 2440 private institutions.
Parishkar College of Global Excellence (Autonomous) produces top-notch research and academics. We create novel teaching and learning methodologies with industry and top Indian and international universities. The autonomous system lets institutes better serve students and industry. It encourages teachers and staff to try novel teaching and research methods and enhance programmes.
Young career hopefuls love Parishkar for producing most government job placements. Jobs, corporates, industry & trade, and helping startups. Parishkar becomes Jaipur's best college in all academic subjects.
Parishkar is known for its quality education, pedagogical innovations, systematic educational process, and value-based instructions focused on enhancing each student's creativity, and has become the Best College in BCA, BSc., BA, B.Com., BBA, MA, MSc., M.Com., BA(Hons), BCom.(Hons), Bsc.(Hons), BA+BEd., and BSc+BEd.
Parishkar is a fast-growing collection of co-educational colleges serving students from all 50 Rajasthan districts and neighbouring states like Haryana, UP, MP, Gujarat, Delhi, Assam, etc.
8. St. Xavier College
Following the list of The Top 20 Commerce Colleges in Jaipur, a Private research university Poornima University is in Sitapura, Jaipur. Since 2012, the Poornima Group of Colleges has offered undergraduate, postgraduate, and doctorate programmes in engineering, management, design, law, science, and commerce. The university has an 'A' rating from the National Assessment and Accreditation Council (NAAC) and is recognised by the University Grants Commission (UGC).
Poornima University boasts a contemporary 32-acre campus with a library, computer centre, sports complex, auditorium, and hostels. The institution collaborates with worldwide universities on research and student exchanges. It also grants scholarships and financial aid to qualified students based on academic achievement and other factors. Poornima University's Incubation Centre (PIC) helps local businesses and entrepreneurs. Additionally, the Poornima Karma Yogi group, a student-run community service group, does social and environmental work.
9. Biyani Group of Institutions
Young, active, result-oriented, and competent people founded the Biyani Shikshan Samiti is among the Top 20  Commerce Colleges in Jaipur. The Samiti seeks "Youth Empowerment through Technical & Professional Education". In February 2005, Param Pujya Shri Kirit Bhaiji lay the college foundation stone.
Biyani Girls College, affiliated with the University of Rajasthan since 2002, entered mainstream education. The Biyani Group of Colleges currently offers more specialised and professional degrees in its education.
The Institute expanded into co-education with Biyani Co-Ed. The college was established in 2011 to satisfy current and future educational demands with its top Institutes Biyani College of Science & Management (BCSM) which also provide an excellent education in the commerce field and Biyani Law College at Kalwar Campus, Jaipur.
They train "Employable Aspirants" with a talented and energetic staff. Students learn employability skills and company culture in our training cell. The Biyani Group of Colleges Placement staff contacts organisations and arranges employability exams, pre-placement conversations, and final interviews.
10. Shankara Institute of Technology
S.K. Chaudhary Educational Trust (SKCET) was established in 2001 with the vision to help underprivileged regions and fields. With over a decade of presence in education, rural development, healthcare, agriculture, and vocational training, the Trust has made significant progress in these areas. The Shankara Group of Institutions operates Primary Schools, Inter Degree Colleges, and Technical Colleges, as well as Eye Hospitals, Nursing Colleges, Krishi Vigyan Kendra, and Watershed Development Programs. The Trust's President, Shri Sant Kumar Chaudhary, is the guiding force behind the Trust's efforts.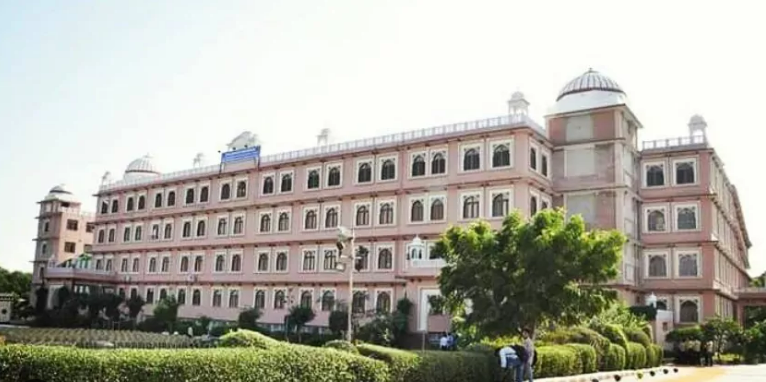 The Shankara Institute of Technology promotes quality education, creativity, research, and value additions for students, staff, and faculty, acting as a catalyst for national development. It is affiliated with Rajasthan Technical University and the University of Rajasthan and approved by the All India Council for Technical Education (AICTE), National Council of Teacher Education (NCTE), Ministry of Human Resources Development (MHRD), and the Government of India.
The sprawling 27-acre campus, located on the Delhi-Jaipur highway, offers a conducive environment for learning and development. With over 4000 students, SIT offers various engineering subjects and postgraduate courses like MBA and MCA, ensuring holistic development for students and faculty.
11.  Maharishi Arvind Science and Management
MAISM is a top institute of the distinguished non-profit Maharishi Arvind Group of Institutions maintained by the Arvind Bharti Vidyalaya Samiti, established in 1975 in Jaipur and inspired by the great yogi, thinker, freedom warrior, and philosopher Maharishi Aurobindo. Since its founding, MAISM has provided industry-relevant training and is respectively on the list of Top 20 Commerce Colleges in Jaipur.
Since 1994, Maharishi Arvind Education Group has offered Job-Oriented & Professional Education in Science, Engineering & Technology, Management, Pharmacy, Computer Science, Commerce, and Research in Jaipur and Kota, Rajasthan.
Maharishi Arvind Education Group has helped Rajasthan flourish in education for 41 years. The Group has contributed equally to the national pool of managerial and technical professionals. Nearly 10,000 students study Professional & Technical courses. Over 1,000. numbers of well-educated academics and support personnel at educational institutions.
12. Kanoria PG Mahila Mahavidyalaya
Next on the Top 20 Commerce Colleges in JaipurKanoria PG Mahila Mahavidyalaya a women's college founded in 1965 by Kanoria Education. It provides science, commerce, arts, and education undergraduate and postgraduate programmes through the University of Rajasthan. The college is known for its academics and female education. Its competent teachers and extensive extracurricular activities attract women seeking a friendly atmosphere.
In the heart of Jaipur, Kanoria PG Mahila Mahavidyalaya has a large campus with contemporary amenities, a hostel for out-of-town students, and a strong alumni network to promote students' careers. The college's website and admissions office have further information.
13. Maharani College
Asia's largest multi-faculty college for ladies, Maharani College, opened in 1944. It has expanded tremendously under royal sponsorship. The college has hosted Dr Zakir Hussain, Dr Sradhakrishnan, and others. The institution provides undergraduate programmes in Arts, Science, Commerce, and BCA/BBA. IMB, Biotech, OMSP, and C.A. are add-ons. prepare pupils for careers. German, French, Urdu, and Persian are electives at the college. Philanthropists give students gold medals and honours for extracurricular activities. The college's elected Student Union expresses student opinions.
College's extensive alumni network guides and mentors current students, offering professional advice and possibilities. The college's central position makes it accessible to city students. By introducing more professional skills, the output of graduates and researchers is expected to be of the best quality in the world.
Also, read Top 20 Universities in Jaipur
14. University of Rajasthan (Commerce Department)
The Central University of Rajasthan (CURaj) was established in 2009 with the aim of providing cutting-edge education to all learners, including those from humble socio-economic backgrounds. CURaj is fully funded by the Government of India and has grown rapidly in 15 years. It has adopted cutting-edge technology to impart knowledge globally, making it one of the fastest-growing institutes of higher education in Rajasthan.
In 2012, the University collaborated with the Department of Commerce to provide flexible, innovative academic and research programs and support structures. The world is experiencing a high-tech revolution, with new sectors like financial services and consultancies emerging. The service sector outstripped the manufacturing sector in growth, offering challenging work, high growth opportunities, and lucrative pay packets. The job market is undergoing a metamorphosis, creating a huge demand for careers in commerce and business.
This has led to a significant change in teaching and delivering business studies courses. The corporate world is dynamic, with new concepts and techniques emerging, making traditional curricula of commerce education necessary to make them meaningful and compatible with changing business scenarios.
15. Arya College
Following the list the next college on the Top 20 Commerce Colleges in Jaipuris Arya College."All India Arya Samajis Society" for Higher & Technical Education founded Arya College in 1999 under the Founder Chairman Er. Shri T.K. Agarwal, a Roorkee University visionary, always believed that "Engineers Build The Nation"! He founded Rajasthan's first private engineering college for glory. He founded over 150 private engineering colleges and made Rajasthan an IT hub of North India.
In 1999, Er. Arya Samajis founded Arya College under the All India Arya Samajis Society of Higher & Technology Education. T.K. Agarwal. He inspired Arya College's empire.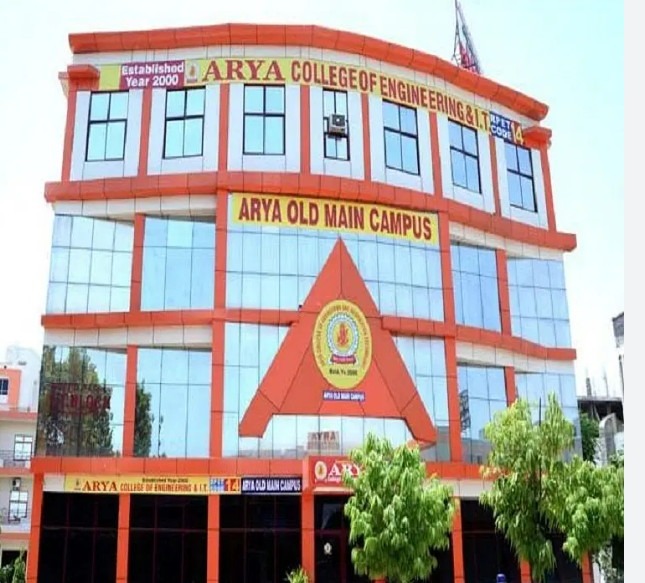 The 25-acre Arya College is beautiful. These colleges have excellent facilities and large laboratories. "Arya" has set standards for a decade, letting others follow. The Arya Leadership Team has vision, innovation, and team support to achieve progressive and futuristic concepts.
Arya College is renowned worldwide for its unique approach, participatory culture, and academic rigour. Over the years, specific efforts to attract bright teachers and exciting admission processes to choose exceptional students from around the nation provide a reservoir of qualified intellectual capital on campus at all times
Arya College has pursued greatness. Our academic industry dominance came quickly. All leading MNCs hire our students and find them valuable resources.
16. Suresh Gyan Vihar University
Subsequently, of the Top 20 Commerce Colleges in Jaipur was founded by the Suresh Gyan Vihar Foundation as Suresh Gyan Vihar University (SGVU) in Jaipur, Rajasthan, in 2008.SGVU is accredited by the University Grants Commission (UGC), NAAC, BCI, PCI, and NCTE. ASSOCHAM Education Excellence Awards named SGVU "Best Private University in Rajasthan" in 2017. It offers undergraduate, postgraduate, and doctoral programmes in engineering, management, law, pharmacy, and education.
SGVU boasts a 31-acre campus with contemporary infrastructure and amenities including well-equipped labs, a digital library, a gymnasium, and a sports complex. It also has a lively student community with many clubs and organisations.
The Commerce programmes at the Suresh Gyan Vihar University, Jaipur, transform students into global business leaders, innovators, and successful professionals
17. Manipal University, ( Department of Management)
Next on theTop 20 Commerce Colleges in Jaipuris a 60-year-old Indian higher education pioneer, who founded Manipal University Jaipur (MUJ) in 2011. Multidisciplinary MUJ emphasises research and innovation. The Manipal Institution Jaipur, often known as MUJ, is a private institution that can be found in Jaipur, which is situated in the state of Rajasthan in India. Manipal Education Group, a multinational education and healthcare provider, was founded in 2011.
The university provides undergraduate, graduate, and doctorate programmes in engineering, management, law, journalism, hospitality, and humanities. Indian and international students attend MUJ. The university's contemporary facilities, skilled instructors, and industry-focused curriculum prepare students for jobs in their disciplines.
MUJ is accredited by the UGC and the AIU. It has an A+ NAAC rating.MUJ collaborates with over 50 universities worldwide, allowing students to exchange, study abroad, and collaborate on research.
18. JECRC University (School of Commerce and Management)
The university holds an 'A' rating from the NAAC and is recognised by the UGC. JECRC University provides a modern campus spanning 32 acres, equipped with facilities such as a library, computer centre, sports complex, auditorium, and hostels. The university provides opportunities for student exchange, internships, and research collaborations with both domestic and international universities.
Additionally, it provides scholarships and financial assistance to eligible students based on their academic performance and other relevant criteria. The JCIE at JECRC University promotes innovation and entrepreneurship among students and faculty. The JECRC Social Responsibility Club, which is managed by students, engages in social and environmental initiatives.
19. Banasthali Vidyapith
The first college in the Top 20 Commerce Colleges in Jaipuris Banasthali Vidyapith a residential women's college with an integrated system from preschool to PhD. October 6, 1935, Smt. After Shantabai's death, Ratan and Pandit Hiralal Shastri created Banasthali. They expected her to advocate for women as an adult. But fate intervened.
Thus, neither educationists nor social reformers founded Banasthali. It's also not philanthropist-made. It sprang like a phoenix from Shantabai's ashes.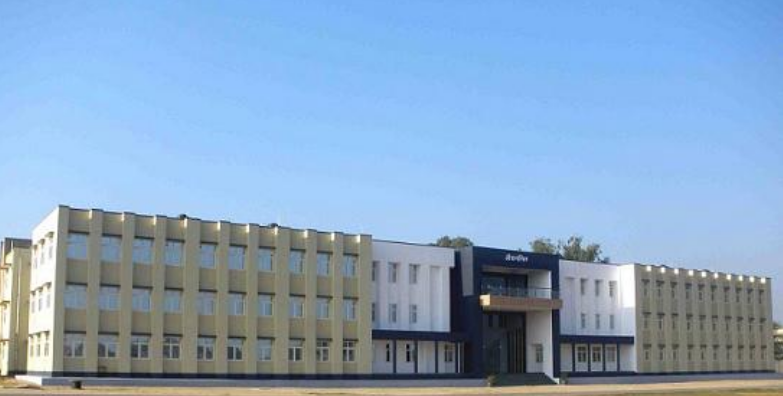 Banasthali has become a national women's education centre in 75 years. Banasthali's curriculum develops students' personalities. Its Five-fold Educational Programme (Panchmukhi Shiksha) includes physical, practical, aesthetic, moral, and intellectual dimensions to reach its goal of synthesis of spiritual ideals and scientific achievements of the East and the West. Thus, students become well-rounded.
20. Deepshikha College of Commerce
Next on the Top 20 Commerce Colleges in Jaipur which believes operation beyond education. They emphasise social ideas to make our students better people. Facilities offer extracurricular activities and room to develop our students' abilities. Campus's lifestyle and enthusiasm will challenge you to perform above your skills, which is the sweet spot for goal achievement.
They also maintain the campus atmosphere for this purpose. Deepshikha Kala Sansthan uses cutting-edge technology to create an infrastructure for mission-based learning and world-class education.
Bachelor of Commerce and Master of Commerce curricula offer a unique approach that enhances the fundamentals needed for business managers to succeed. The Corporate Mentor Programme also encourages students to think creatively and start businesses. Students get coaching, incubation, and tools from the institution.
Conclusion
Thus, Jaipur is a premier commerce education centre. The city's top 20 commerce institutions combine academic rigour with holistic development. Each school on our list offers students a unique chance to realise their potential and succeed in business. When choosing a college, examine your hobbies, professional goals, and requirements. Whether you select St. Xavier's College's academic pedigree or Bhawan Vidyalaya College of Commerce's motivating environment, Jaipur's commerce institutions are devoted to shaping young brains into vibrant professionals of the future.
So dive into Jaipur's dynamic commerce school world and sail towards a bright future. Utilise these institutions' expertise, contacts, and experiences to succeed in the ever-changing business world. The path to greatness starts here.
Also, read Top 20 Colleges in Jaipur