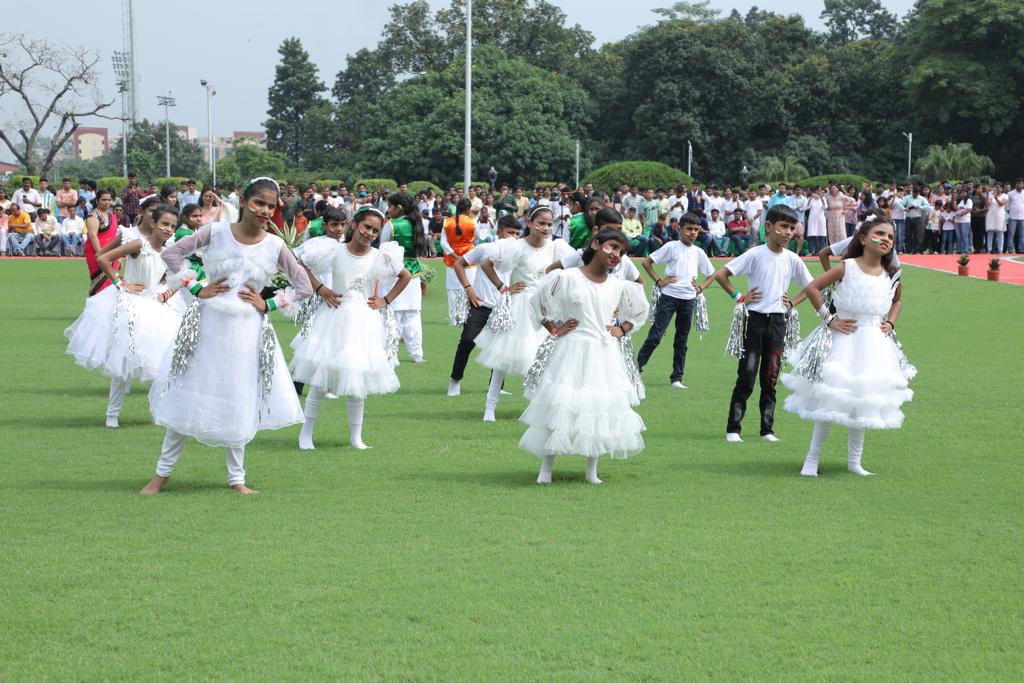 IIT Roorkee celebrates 77th Independence Day with a great theme
IIT Roorkee was the center of attraction when it celebrated 77th Independence Day under 'Nation First, Always First' theme. The ceremonial event occurred in front of the iconic James Thomason Building on IIT Roorkee campus, a structure that stands as a testament to the institution's legacy.
The Director of IIT Roorkee led the flag hoisting after inspecting the Guard of Honour and warmly welcomed the distinguished guests. This year Indian Institute of Technology Roorkee (IIT Roorkee), is in its 176th year of foundation, and like every year, the institute celebrated the Independence Day Function on August 15, 2023, with its customary enthusiasm.
Theme
Under the overarching theme of "Nation First, Always First," this year's celebration aligned with the broader "Azadi Ka Amrit Mahotsav" initiative.
The event at IIT Roorkee embraced the rich tapestry of India's diverse cultures, featuring cultural presentations by ABN Senior Secondary School students, Anushruti Academy for the Deaf, and the Cultural Society of IIT Roorkee.
The celebration culminated with a harmonious rendition of the National Anthem.
Director of IIT Roorkee
Addressing the gathering on Independence Day, Prof. K K Pant, Director of IIT Roorkee, eloquently expressed, "Independence Day transforms our nation into a canvas painted with the hues of pride and patriotism.
Also read – Top BPharma colleges in Jaipur
I am deeply appreciative of everyone present here, as I can confidently assert that IIT Roorkee's contribution to educating our youth goes beyond just a date on the calendar, it is a symphony that pays homage to the celebration of unity, said Director of IIT Roorkee.
Celebration
Remarkably, the celebration went beyond symbolic gestures. It underscored IIT Roorkee's steadfast commitment to nurturing knowledge, unity, and holistic development.
IIT Roorkee stands as a bastion of academic excellence, innovation, and national progress, encapsulating its enduring legacy that IIT Roorkee continues to be a cornerstone of academic excellence, innovation, and national progress.
Introspection
On the eve of 14th August 2023, IIT Roorkee also solemnly observed "Partition Horrors Remembrance Day." The day was marked not only by introspection but also by active engagement.
A comprehensive cleanliness drive encompassing hostels, messes, and offices, underscored the institution's dedication to honoring history through meaningful action.
Spirit of unity
Further fostering a spirit of unity and patriotism, the "Har Ghar Tiranga" initiative encouraged faculty, students, and staff to hoist the National Flag in their respective abodes from the 13th to the 15th of August 2023.
This collective effort not only mirrored a nationwide celebration but also amplified the sense of shared identity and purpose.
Additionally, the institute's engagement in an enlightening Workshop on Intellectual Property Rights (IPR), as part of the Aazadi Ka Amritkal celebrations, underscores its forward-thinking approach.
This endeavor demonstrates the institution's commitment to equipping its community with essential knowledge and tools for innovation, aligning seamlessly with the nation's progress.
In essence, these endeavors collectively exemplify the organization's ethos of nurturing knowledge, unity, and holistic development while standing as a resolute pillar of national pride and progress.
About IIT Roorkee
IITR is among the foremost of institutes of national importance in higher technological education and in engineering, basic and applied research.
Since its establishment, the Institute has played a vital role in providing the technical manpower and know-how to the country and in pursuit of research.
The Institute ranks amongst the best technological institutions in the world and has contributed to all sectors of technological development.
It has also been considered a trend-setter in the area of education and research in the field of science, technology, and engineering.
The Institute had celebrated its Sesquicentennial in October 1996 and now completed more than 175 years of its existence.
It was converted to IIT on September 21, 2001 by an Ordinance issued by the Government of India declared it as the nation's seventh Indian Institute of Technology, an "Institution of National Importance".